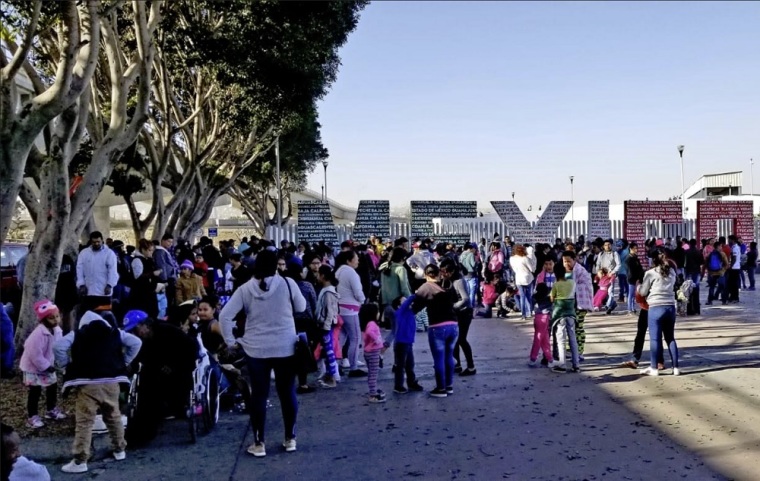 A federal judge appointed by President Donald Trump struck down the administration's asylum regulation that required Central Americans to first seek asylum in other countries they traveled through before seeking asylum in the United States. 
U.S. District Judge Timothy J. Kelly on Tuesday night struck down the rule enacted last summer that bars immigrants from applying for asylum in the U.S. if they did not first apply for asylum in a country they passed through before reaching the U.S. southern border.
The order halts the implementation of the policy and denied the government's request to stay the order pending the government's likely appeal of his decision.
Kelly, who was appointed to the U.S. District Court for the District of Columbia in 2017 and is among 200 other federal judges appointed by the Trump administration, sided with immigration advocacy nonprofits.
The plaintiffs, who include immigration advocacy groups and nine asylum seekers, claimed that the regulation published by the Department of Homeland Security and the Justice Department, known as the "third-country asylum" rule, violated the Immigration and Nationality Act as well as the Trafficking Victims Protection Reauthorization Act.
The rule essentially requires asylum seekers from El Salvador, Guatemala, Honduras, and other Central and South American countries to go through the asylum process in other countries before applying for asylum in the U.S.
The plaintiffs contend that the ruling was "arbitrary and capricious" and issued without notice-and-comment procedures." They further argued that the policy has virtually halted asylums at the southern border for the last year.
Kelly called the rule "unlawfully promulgated" and accused the Trump administration of not following the proper protocols outlined in the Administrative Procedure Act as it did not allow enough time for a public comment period.
"The APA generally requires substantive rules to be promulgated through notice-and-comment rulemaking," Kelly wrote in his opinion. "These procedures are not a mere formality."
The federal government argued that exceptions to the APA requirements applied to the rule.
Click here to read more.
SOURCE: Christian Post, Samuel Smith