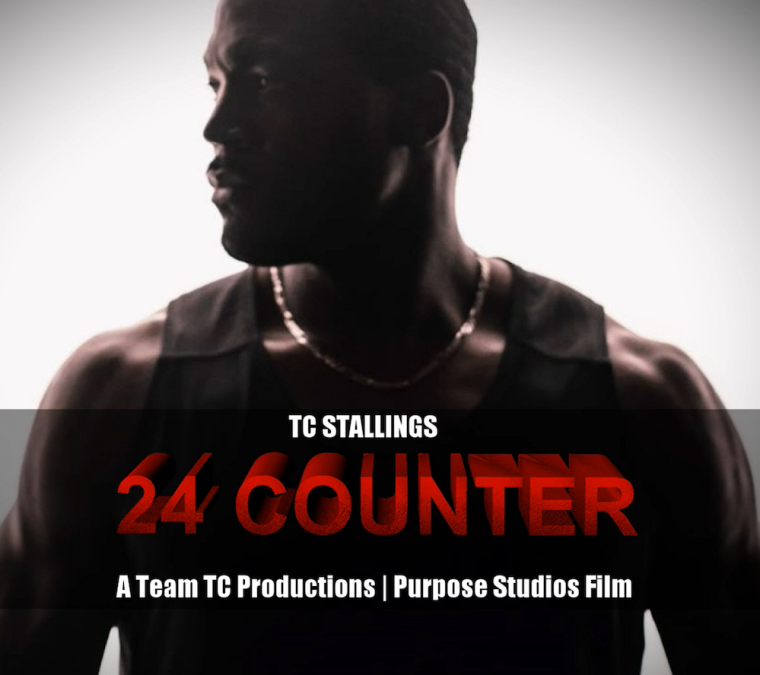 T.C. Stallings ("War Room") suffered a string of unimaginable tragedies this season, which led to the release of his new docufilm, "24 Counter: The Story BEHIND the Run." 
The film follows the life of the former football player turned Christian actor. Viewers will journey through his life from growing up in a dangerous, low-income neighborhood, the impact that upbringing had on his life and how it fueled his career.
"His opportunity came through football, but Tony's struggles were far from over. A position change, injury, and a huge spiritual wake-up call are only the beginning. His childhood dream and new-found faith are about to be tested like never before," the film's synopsis reads.
The award-nominated documentary became available via On Demand on June 30.
The following is an edited transcript of The Christian Post's interview with Stallings where he shares his testimony of how the Holy Spirit enabled him to release a film while in one of the hardest seasons of his life.
Christian Post: You adapted your new film from your book, Playing on God's Team. Can you share about it?
Stallings: Me and my wife joke about this because we call it a docu-mony [documentary/ testimony]. I think we might've invented that word. It's a documentary about my testimony about how I came to know the Lord. It just happened at a time where I was in college playing college football, around my sophomore year. The story was so inspiring and I wanted to make sure that people knew it, especially athletes.
It started off as a book that I wrote called Playing on God's Team, where I was targeting athletes who I know are in the locker rooms just like I was having to deal with having a strong faith while still being in college, while still being an athlete and all the temptations that come along with that. So it started off as just that. Then when I realized that a team by definition is just a collection of people coming together for a common goal, I started to think, "Well, Christians are a collection of Christ followers coming together for the common goal of telling people about Jesus.
So I realized this book is for everybody. So I started sharing the book with everybody. Then because I lead off in the book with telling my story, I decided to go ahead and open up that testimony with pictures and video. I'm like, "You know what, let's just make this into a documentary of my testimony so that people can see it." The movie is like sitting there having a cup of coffee with me and you asked me, "TC, tell me about yourself, how did you come to know the Lord?" I get to tell you, and meanwhile, all these pictures and videos are popping up over top of my head.
CP: You've gone on to accomplish great things despite growing up in a rough neighborhood and in poverty. Can you share words of advice for anyone out there that feels hopeless because of their life's circumstances? 
Stallings: As I look at what's going on right now, as a 42-year-old man, everything that I've learned over the years that the Lord has taught me, and then I go back to Cleveland now, I'm a young kid, and I live in a world that we live in right now, what would I be able to tell myself is that none of this is surprising God. None of this is outside of His strengths. None of this is something where I can't pray to Him and ask Him what to do in the midst of it. If I was a young kid right now, if I was anybody right now, my thing would be, "Lord, I know you have a plan, this ain't surprising you, what is my role within these times that we living in?" Then I will be able to obey and let the Holy Spirit lead me. If there are painful moments, well, if the Lord is leading, then I know I can call that ordained pain, this is what He planned for me to go through. Then that means He's going to strengthen me to be able to get out of it.
For me, growing up, I didn't even know exactly all the things that I know now. But then that's the other great thing about God's mercy, His grace, because here I am as a kid, living in a tough neighborhood, living in poverty, living around gangs, didn't have my dad, all the ingredients to where you don't succeed in life. But God had a plan at that time. I'm thinking football got planted in my heart as just a means out of a neighborhood where He was like, "Ah, in about 10-12 years, you're going to come head on with Me. I'm going to use football to get you to come see Me, and I'm going to change your life." So He has a plan regardless of what's going on in our world.
CP: Can you expound more on the term ordained pain?
Click here to read more.
SOURCE: Christian Post, Jeannie Law