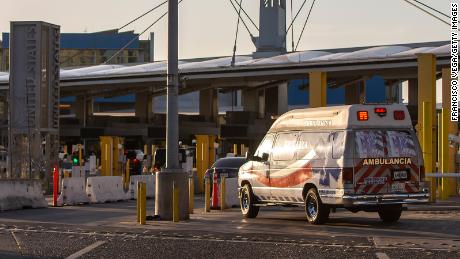 (CNN) Chris Van Gorder says he's seeing a telling trend in the hospitals he runs.
Coronavirus patients are showing up in emergency rooms after calling 911 from the US-Mexico border.
"They'll literally come to the border and call an ambulance," says Van Gorder, president and CEO of Scripps Health, a hospital system in southern California.
The rise in ambulance traffic from the border, which several officials described to CNN, is a symptom of the pandemic's spread in the region — and a sign of the many connections between communities in both countries.
"There just is not a wall for viruses at the border," says Josiah Heyman, director of the Center for Inter-American and Border Studies at the University of Texas at El Paso. "The wall is an illusion, because the two sides are really woven together."
An increase in cross-border coronavirus cases, which began getting public attention in May, overwhelmed some California hospitals and spurred the state to create a new patient transfer system to help.
"It's an unprecedented surge across the border," says Carmela Coyle, president and CEO of the California Hospital Association.
In the past five weeks, more than 500 patients have been transferred to hospitals across the state from California's Imperial County, which has the state's highest per capita rate of coronavirus cases — and, according to officials, has seen a large number of patients crossing from Mexico.
But Van Gorder, Coyle and other officials in California say this isn't an immigration issue.
Most of the coronavirus patients crossing the border, they say, are Americans.
In a call with state hospital leaders earlier this month, the head of California's emergency medical services authority, Dr. David Duncan, described the steady stream of patients coming to Imperial County as "gas on the fire."
"We've got this continual flow of Covid coming across the border in the form of US citizens that carry and continue to escalate and fuel the Covid pressures that we see," Duncan said.
Source: CNN