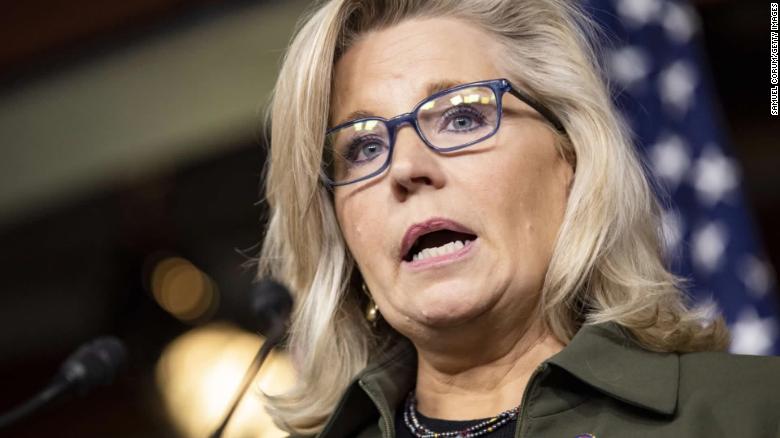 (CNN) Wyoming Rep. Liz Cheney posted a photo of former Vice President Dick Cheney sporting a face mask on Friday and took a shot at the manhood of people who refuse to wear face coverings in a seeming jab at President Donald Trump.
Liz Cheney, the No. 3 House Republican, posted the photo her father as lawmakers push harder for their constituents to wear face masks to limit the spread of coronavirus. Trump has been loath to wear a mask, despite the advice of public health experts.
"Dick Cheney says WEAR A MASK. #realmenwearmasks," the younger Cheney tweeted Friday along with a photo of her father wearing a mask.
Masks remain a sticking point for some politicians, most notably Trump, even as the number of coronavirus cases climbs past 2.4 million, according to data from the Johns Hopkins University Center for Systems Science and Engineering. The US Centers for Disease Control and Prevention says that everyone "should wear a cloth face cover when they have to go out in public, for example to the grocery store or to pick up other necessities."
But Trump has continued to defy health recommendations and has been reluctant to be seen wearing a mask in public. He recently told The Wall Street Journal that masks are "a double-edged sword" and also suggested that masks are being worn as a political statement, rather than a health precaution, to show disapproval of him.
Some Republican governors, such as Texas Gov. Greg Abbott and Florida Gov. Ron DeSantis, have resisted mandating face masks be worn in public in their states despite new coronavirus peaks in their states. Experts say wearing a face mask or other face covering could reduce the transmission of Covid-19 by as much as 50%.
Cheney's comments on Friday were not her first to run counter to the President's decisions in combating the coronavirus.
Source: CNN