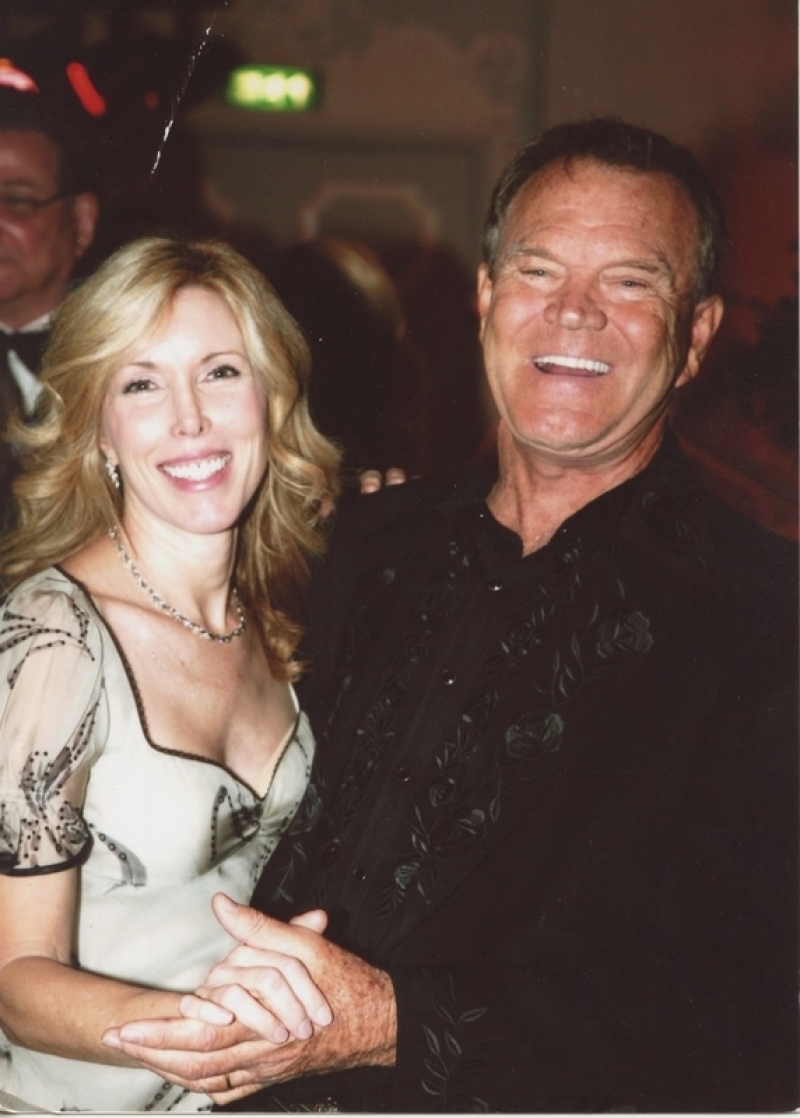 Glen Campbell's wife, Kim, has opened up about God's faithfulness through the ups and downs of the couple's 34-year marriage, from the legendary singer's struggle with addiction to his heartbreaking fight against Alzheimer's disease.
"Glen has a musical legacy, but he also had a beautiful legacy of courage and overcoming adversity," Kim recalled in an exclusive interview with The Christian Post of her late husband, who won 10 Grammy Awards, released more than 70 albums, and sold more than 45 million records throughout his storied career.
"Glen was a really godly man, a spiritual leader for our family," the 61-year-old former dancer said. "He taught our kids right from wrong and was just an amazing person. He overcame so many things: the trauma of his childhood, the betrayals of relationships, the addiction to alcohol and drugs, and was such a hero in opening himself up and making himself vulnerable and transparent."
Yet, for much of his adult life, country music's Grammy-winning "Rhinestone Cowboy" struggled with alcohol and drug addiction ⁠— battles Kim candidly recounts in her new memoir, Gentle on My Mind: In Sickness and in Health with Glen Campbell.
"Glen was my best friend, truly a good man when he wasn't drinking," Kim recalled of her husband, who she married in 1982, when he was 46 and she was 24. "But when he drank, he was full of rage; entirely unrecognizable."
In her memoir, Kim details one particularly frightening occasion when, shortly after the birth of their first son, Cal, Glen drunkenly pointed a pistol at her. After a few moments, he turned and walked away.
"It was terrifying," she admitted.
At that moment, Kim said she heard a voice clearly recite Philippians 4:13: "I can do all things through Christ who strengthens me."
"I embraced those words," she said. "They gave me determination because I realized that there was a spiritual battle going on over Glenn's life very life, and if I left, he would die. I prayed and prayed and I just had to believe that God would deliver him from that bondage."
"But," she continued, "I knew that something did have to change and that's when I decided I wasn't going to let Glen make the rules for me. Up until that point he had told me that I was not allowed to talk about his drinking with anyone. I decided to reach out and get help."
After the pistol incident, Glen and Kim joined a Baptist church where they soon found a community of positive, uplifting friends.
"I always said God led us to the Baptist church because the Baptists didn't drink," Kim said with a chuckle.
With the support of his family and friends ⁠— including fellow music stars Alice Cooper and Gene Autry — Glen remained sober for 15 years.
"Over the years, God put a lot of different people in Glen's path that helped him face his demons," Kim said. "So many people poured into his recovery."
The Campbells, now a family of five, settled into family life ⁠— years Kim recalls as "absolutely beautiful."
Click here to read more.
SOURCE: Christian Post, Leah MarieAnn Klett