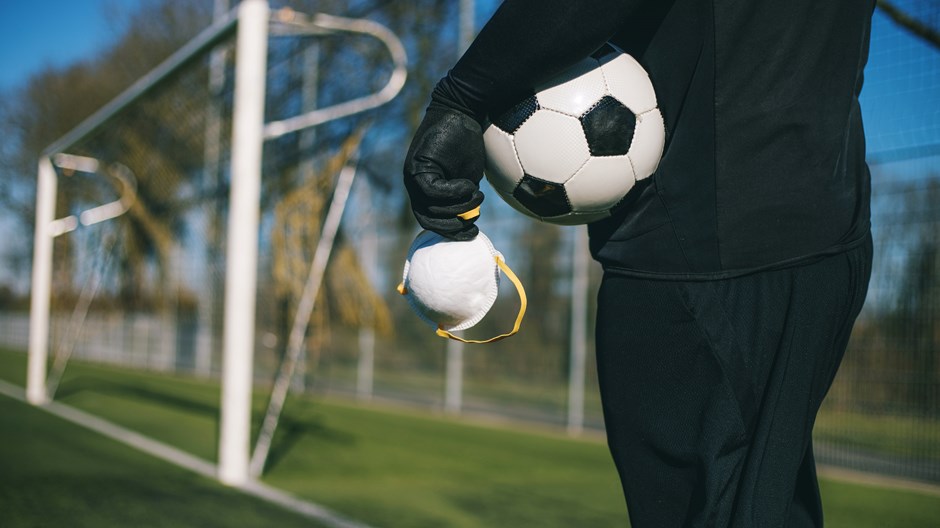 Stephen Ko is the senior pastor at New York Chinese Alliance Church, an adjunct professor at Alliance Theological Seminary, and formerly a CDC medical officer and professor of global health at Boston University. Follow him on Twitter @drsteveko.
---
After months of virtual services, America's churches are beginning to open their doors. Pastors—and particularly youth pastors—face a challenging situation: how to restart sports ministries. With over 60,000 gyms inside church buildings in America, the community life of many Christians relies on exercise and athletics, whether it's casual games at fellowship gatherings or a more formalized sports league. Parachurch ministries like the Fellowship of Christian Athletes and Upward Sports exist in all 50 states and over 93 countries, the latter having served more than 7 million kids playing basketball, football, baseball, softball, soccer, volleyball, and cheerleading. These activities can help teach a valuable lesson forgotten by so many churches: Our body is a temple of the Holy Spirit, and engaging in physical exercise can encourage us to worship God. How can we continue teaching these lessons, even as our country slowly recovers from a global pandemic?
As a pastor and former CDC medical officer, I've had questions like these on my mind for some time now. From a pastoral perspective, I yearn for congregations to embrace the gift of exercise while rediscovering Christian community in sports—particularly after months of lockdown. But from a medical standpoint, I know how devastating COVID-19 can be and how important it is to value the sanctity of life.
Before the quarantine, our church hosted a weekly basketball ministry at a local public school in New York City. Every Monday night, church and community members laced up their high-tops while sharing the parquet. From hard fouls to rainbow threes, non-Christians witnessed the fellowship of believers while engaging in four-on-four tournaments. The friendships forged during basketball games emboldened church members to be intentional about evangelism. In time, they preached the gospel, winning over souls for the kingdom of God.
With COVID-19, our current situation is complex. There is no one-size-fits-all plan that will work for every congregation; each church is different, and every church leader must closely monitor the situation in his or her area. That said, I've developed four general principles that all church leaders can bear in mind as they figure out how to build sports community while still prioritizing safety.
Principle One: Exercise is redemptive
One of the reasons social distancing has been so painful is that we can't exercise in the ways we usually would. With gyms closed and youth sports canceled, it's not just our bodies that are exhausted—our minds and spirits grow weary as well.
As temples of the Holy Spirit, our bodies are meant to worship God (1 Cor. 6:19). While we praise him with songs and spiritual hymns, we honor him by exercising, eating healthily, and crucifying the desires of the flesh (Gal. 5:24). The choices we make either redeem our bodies or destroy them.
While exercise is a natural component of physical health, it positively affects our emotional and spiritual well-being as well. Physical activity releases endorphins that improve our mood and overall emotional health, leading to decreased stress, anxiety, and depression. Improved sleep and increased energy levels allow us to flourish while worshiping God.
Pastors can safely encourage their congregations to honor God by redeeming their bodies through regular exercise. The Aspen Institute has issued helpful guidance on low-risk activities players can follow for each sport. Team coaches can provide players with at-home workouts or lead virtual training sessions.
These activities will not only help us stay in shape but also will lift our spirits while empowering us to thrive holistically.
Principle Two: COVID-19 risk varies among individuals, communities, and sports
While there are varying risks to take into account, churches can consider changing their sports offerings to safely meet their community's needs. Given higher levels of risk within private gyms and community athletics, churches can fill the gaps left by them. This includes offering meaningful and safe ways to exercise that foster fellowship within church facilities. Churches can host smaller gatherings of individuals of similar life stages during initial phases of state re-opening plans before other entities can re-launch.
Overall, church leaders should begin to gauge infection risk using these factors: COVID-19 infection rate within the community, organizational capacity to maintain healthy environments, characteristics of particular sports, and individual risk (Figure 1). Active outbreaks within local communities where sports are being played present considerable risk for disease transmission.
Click here to read more.
Source: Christianity Today