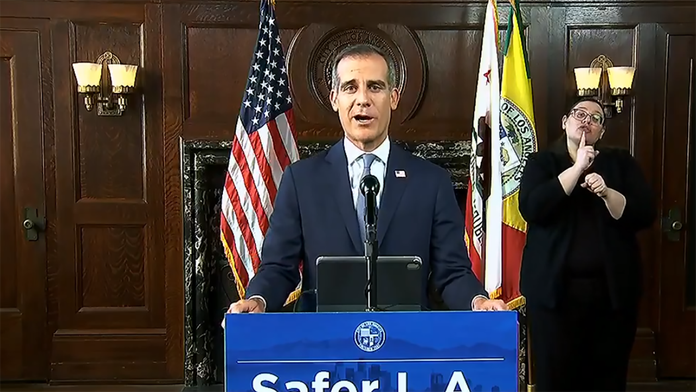 LOS ANGELES — Amid record-setting spikes in newly confirmed coronavirus infections, Los Angeles Mayor Eric Garcetti urged Angelenos to continue staying home as much as possible — even as the region's economy gradually emerges from its pandemic-induced coma.
During a briefing Wednesday, Garcetti shared four major takeaways: "One, COVID-19 is still here. Two, COVID-19 is still dangerous. Three, we're adding more testing to make sure that we can find COVID-19 where it lives. And, four, we must continue to take precautions to keep our city and our people safe.
"That's why wearing a face covering, that's why practicing physical distancing, washing our hands and, yes, still, as painful as it might feel, staying at home whenever we can is our best defense," he said.
Starting Thursday, Garcetti said, Los Angeles would dramatically ramp up capacity at its COVID-19 test sites, from 7,700 to 13,700 tests per day, to meet increased demand.
The announcement comes on the heels of news that many have been unable to book testing appointments, particularly following massive protests against police brutality that prompted health officials to urge demonstrators to get screened.
There have been nearly 90,000 confirmed coronavirus infections and more than 3,200 deaths in L.A. County.
That total caseload has been fueled by significant spikes of late — including several days in which the county reported more than 2,000 new infections.
Health officials have repeatedly said that case counts would rise as more businesses and public spaces reopened, and California set back-to-back records this week in terms of daily reported coronavirus cases.
Source: The Bakersfield Californian