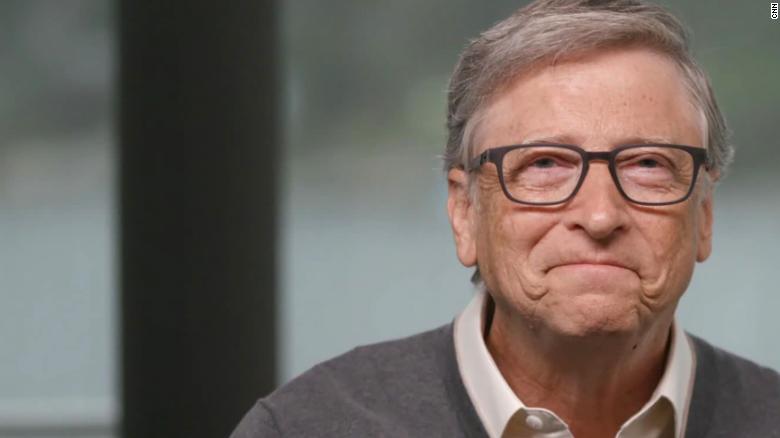 (CNN)Microsoft founder Bill Gates said Thursday that the current coronavirus picture, both globally and in the US, is "more bleak" than he would have expected.
Speaking to CNN's Anderson Cooper and Dr. Sanjay Gupta in a Coronavirus Town Hall, Gates said the fact that people are still dying in the US today shows that the country is "not even close" to doing enough to fight the pandemic.
"It's possible to ramp up testing for a new pathogen very, very fast," he said.
"In fact a number of countries did that extremely well in this case and the technology keeps getting better there. The US in particular hasn't had the leadership messages or coordination that you would have expected."
Eight weeks ago, when Gates was last a guest on CNN's Town Hall, the death toll in America stood at 63,000 with more than one million cases recorded. Today, those figures have doubled — there are at least 2.4 million confirmed cases of Covid-19 in the US, and more than 122,000 people have died, according to Johns Hopkins University data.
Gates attributed the rise in numbers to a lack of testing and contact tracing, as well as a lack of mask wearing. He said other countries that had done those things effectively had seen numbers drop.
"The range of behaviors in the US right now, some people being very conservative in what they do, and some people ignoring the epidemic, is huge," Gates said.
"Some people almost feel like it's a political thing which is unfortunate," he added, something he says he didn't expect in America.
"The governor of North Dakota, a friend of mine, had to say 'please don't be mean to people wearing a mask' which kind of blows the mind."
Gates dismissed the White House's claim that an increase in case numbers is a direct result of an increase in testing, calling it "completely false."
He also expressed disappointment with what he called a lack of US leadership to tackle this virus globally, which has led to developing countries — such as Brazil and India — bearing the brunt of this disease.
However, he said he remains hopeful that the US will "step up" and help get the tools, particularly the vaccine, out to everyone in the world.
Source: CNN