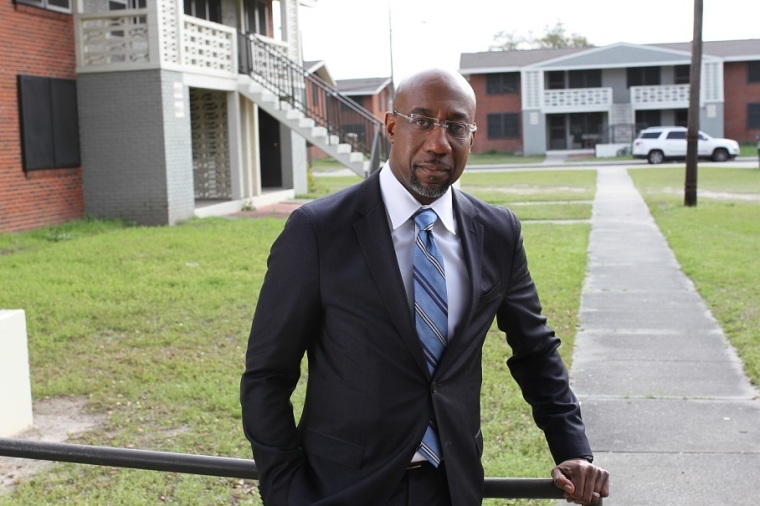 He believes the U.S. Senate could benefit from having a pastor in its midst right now and Rev. Raphael Warnock, who is vying to become Georgia's first black member in the upper chamber of Congress, believes he should be the one.
On Monday evening, Warnock, a longtime civil rights activist and progressive preacher who leads the historic Ebenezer Baptist Church in Atlanta where the Rev. Martin Luther King Sr. and the Rev. Martin Luther King Jr. served as pastors, was busy getting ready to minister to hurting people at the funeral service for Rayshard Brooks, set for Tuesday. Brooks, a 27-year-old black father, was recently killed by police in Atlanta in a controversial shooting that set off fiery protests about racial injustice and police brutality.
Warnock believes that now is the perfect moment for people of faith to unite across differences and lead the nation to a better place as protesters continue raging in the streets.
"This is a moral moment in America. It is a time when once again we're being called upon as an American people to reexamine the meanings and the significance of the covenant we have with one another. E pluribus unum — out of many one. That is the noble and grand experiment that hangs over the American situation," he said in an interview with The Christian Post, referencing the nationwide unrest triggered by the police killings of Brooks and George Floyd in Minneapolis.
"It always represents an ideal that we are trying to reach. And ever so often, there comes these flash points that shock us into the realization of just how far we have yet to go. The lynching of George Floyd in broad daylight by those who are supposed to be providing equal protection under the law brings these issues of race that are always with us into sharp focus in ways that have forced people who typically don't get engaged in these issues to pay attention. That's what we're seeing. We're seeing the country at large being shaken into acknowledging an experience that people of color live with every day and know intimately."
After Republican Johnny Isakson resigned from the Senate last year, Georgia's Republican Gov. Brian Kemp appointed Sen. Kelly Loeffler, who was recently cleared of alleged insider trading ahead of the coronavirus pandemic by the Senate Ethics Committee.
In a special election in November, Loeffler will have to face Warnock, who in April had garnered more fundraising support than any of the other 20 candidates in the field, including the top two Republicans — Loeffler and Rep. Doug Collins, an ordained chaplain in the Air Force Reserve. If no one receives more than 50% of the vote, the two candidates with the most votes will be on the ballot for a runoff in January 2021. In addition to being the first black U.S. senator from Georgia if he is elected, Warnock would be only the 11th in the 231-year history of the Senate.
"I think the Senate, given its gridlock and inability to move past predictable partisan arguments could well use a pastor right about now, a pastor in its ranks. And so I'm running because I think that ultimately, behind the public policy arguments, is a more fundamental question about the character of the country and the soul of the nation," Warnock, a divorced father of two, told CP.
Warnock, 50, who grew up in public housing with 11 siblings, a preacher father and mother who taught him to believe in God and his worth, is now one of the most powerful voices in Atlanta. After spending years amplifying the collective voice of ordinary people from his pulpit, he says he now wants to take that voice directly to the "halls of Washington."
"It's a new assignment but the same project. The project of creating a more loving and just society that embraces all of God's children. That's what my activism has always been about. And that activism has often addressed itself to power with an eye toward changing public policy," he said, insisting he's not moving away from his activism.
Click here to read more.
SOURCE: Christian Post, Leonardo Blair