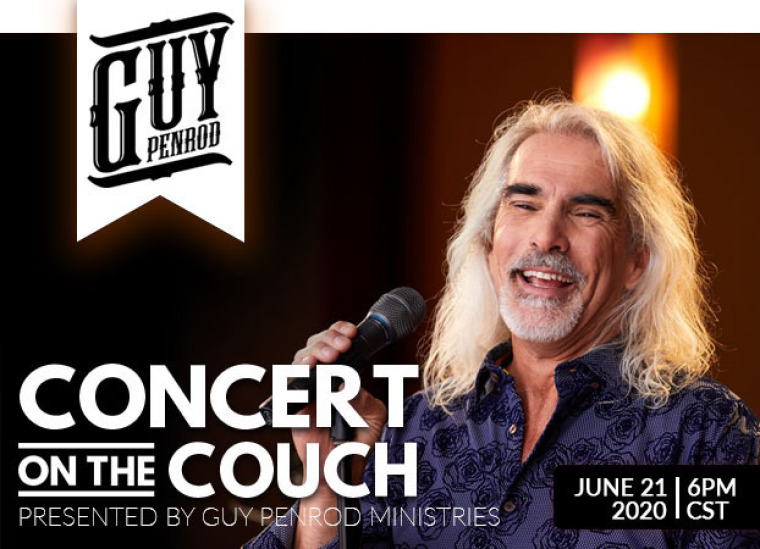 One of gospel music's most awarded vocalists and Gospel Music Hall of Famer Guy Penrod is gearing up to deliver a powerful Father's Day concert to encourage men of God to step up in these hard times and lead by example.  
Penrod says he hopes Christian men will fight the evils of this world amid the coronavirus pandemic and unrest and injustice in America. And he's inviting families to enter into worship with him on Father's Day for his music special, "Concert On The Couch—A Father's Day Celebration From Franklin Theatre."
The following is an edited transcript of Penrod's interview with The Christian Post where he discusses the live concert and the importance of men and fathers worshiping God from a place of vulnerability that will, in turn, change the world and help others resist the evil in it.
CP: Can you tell us about your Father's Day special, "Concert on the Couch"?
Penrod: We actually just kind of backed into the Father's Day understanding of it. We were going to do it on June 21, and then, as someone got to talking, they were like, "Hey, that's Father's Day." And I said, "What a great day for us to do it, worshiping the Lord, our Heavenly Father, and get to celebrate our earthly fathers.
I have eight kids, seven sons and one little girl. So Father's Day is kind of crazy at our place. I try to play it up as much as I can, get all the good stuff and get them to grill me something good. So we figured that would be a good time for the family to gather around the screens these days. [Families] can sit on the couch, make some popcorn, relax, and worship Jesus together. 

CP: Can you speak of the importance of staying encouraged in these times?
Penrod: These are heavy times and we don't make light of that at all. But we read all through history, it's usually in those heavy times when we realize our needs. As humans, I'll speak for myself, I'm so forgetful. In prosperous times and peaceful times, we tend to forget a lot of the needs that we actually have on a daily basis. But oftentimes, I think that I can meet my own needs and I really can't. I have to be dependent on the Father day by day.
It's times like these, with this pandemic and the virus that has just wreaked havoc all over the world. And even here in our country, we're experiencing unrest and injustice and the results of man running things. You know, in the Old Testament, God told the children of Israel, "It'd be best if I don't give you an earthly king; just let me be your King. But they clamored and clamored to have a king, and you see the results all down through history of what happens when men get power, power tends to corrupt. It's part of the fall. It's what happens.
So when we can usher in the Kingdom of God, in the model of prayer, Jesus gave us that good instruction: "Our Father, which art in Heaven, hallowed be thy name, thy Kingdom come thy will be done, on earth as it is in Heaven."
This is why I said it's exciting times to be alive even though they're heavy times. It was heavy times when Jesus was here and it has been with every generation at one time or another. And it's our good time to shine the bright light of the love of Christ and the hope and the grace that He gives, the mercies that are new every morning, and they can come to Him.
Jesus wipes everything clean. He has paid for everything. He can restore everything. He can bring peace where there is no peace. He can bring comfort where there's troubled hearts. He can mend relationships. He brings dead things to life. So the music and the message, when you couple those things, you've got both sides of the brain working.
So we lift up old hymns in these days, in this time, and then couple it with the new stuff that is worship music that has moved our hearts and souls, and live music as well that we've put into this particular event.
We believe that coupled with some spoken word to lead people to Christ, to encourage believers to tell them, "Jesus loves you. He is for you. He's not against you. He's with you. He's pleased with you. He even likes you; He likes you so much that He came and He reconciled us to the Father. He brought life where we were walking in death. And it's just a fabulous time to be alive and to be lifting up the King in this season and watch Him change the world as we boldly go back and push the gates of Hell backward.
CP: For this concert, you're singing songs like "I Surrender All" and "Leaning on the Everlasting Arms." They're pretty vulnerable songs. For fathers, sometimes that can be hard to get to, and it's hard for children to see their fathers in that way. Will you talk about the importance of that vulnerable exchange?

Click here to read more.
SOURCE: Christian Post, Jeannie Law