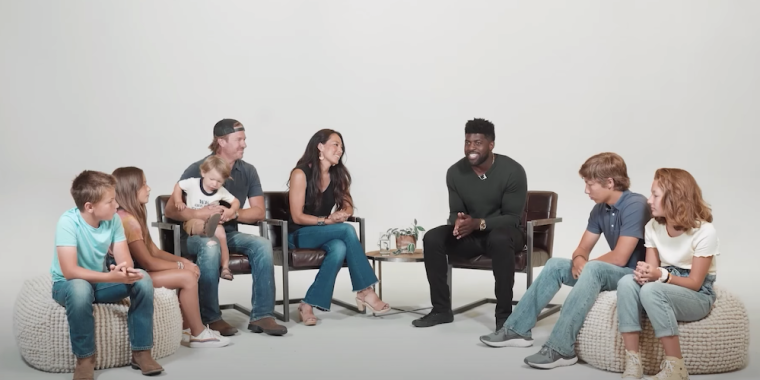 Former "Fixer Upper" stars Chip and Joanna Gaines and their five children appeared on the latest episode of "Uncomfortable Conversations With a Black Man," to help inform their five children of racial issues.
"Our family wants to hear what you have to say and the idea of having an uncomfortable conversation with a black man is exactly what we need for this exact time," Chip told former NFL linebacker Emmanuel Acho, who's now an ESPN analyst.
In the latest episode, the Gaineses and Acho talked about "color blindness." Joanna explained that she gave her children — Drake, 15, Ella, 13, Duke, 12, Emmie, 10, 1-year-old Crew — a test to see if they felt differently about white and black people and was happy that they didn't.
"I think that it's best that we raise our kids to see color, because there's a beauty in color and there's a beauty in culture," the former football star said. "As a white man becomes an adult, he won't be able to decipher the difference between a black man who's a threat and a black man who's just black [if he's been taught color blindness].
"And a black person won't be able to decipher between a white person who is racist and a white person who is just ignorant," Acho added.
Chip lauded Acho for launching his new series on race, saying, "it was like there was a lightbulb that went on in my head. I think I've been blind to this reality for maybe my whole life."
The conversation then switched gears and the children asked Acho questions.
Click here to read more.
SOURCE: Christian Post, Jeannie Law