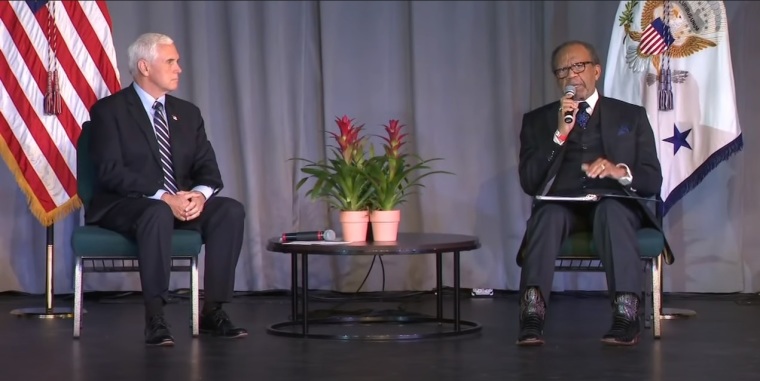 Vice President Mike Pence on Friday attended a listening session with black clergy and leaders who shared their life experiences and ideas on policies the administration can implement to help black communities.  
The listening session was held at Covenant Church of Pittsburgh, Pennsylvania, where Pence said: "the death of George Floyd was a national tragedy."
"It's brought us to a moment where the president and I are intent on listening and learning. Not just how we might equip people that serve in law enforcement with more tools and more training in the days ahead, but how we also might deal with some of the historic underlying inequities that have beset minority communities," Pence said.
"We are absolutely determined to work with you, the great leaders that are gathered around here and people around the country, to find ways in the long term that we can make progress on some historic inequities, particularly impacting our African American communities and our cities, in jobs, in opportunity, in education, and in healthcare."
Pennsylvania Superior Court Pastor Ross Owens told Pence that he was "mentally, physically and spiritually tired" of the racism he and his children have experienced.
"It's exhausting to continue to talk to my children, and try to educate my son as I'm teaching him how to drive, how to respond when he's been pulled over police," Owens said.
"But yet I'm so tired, because the narrative is still the same. … When I turn on the television, it's business as usual for the black community."
Noting that he came to the discussion with "a mix of emotions," Owens added that he was "tired, but optimistic," explaining that he had also seen progress on racial issues.
One example was his congregation, which used to be exclusively white and would not welcome local African Americans, but over time has become more racially diverse.
Retired Judge Cheryl Allen spoke about her "experience as a mother" and how her three sons who "have been stopped collectively at least a dozen times by the police, even some black police."
Click here to read more.
SOURCE: Christian Post, Michael Gryboski