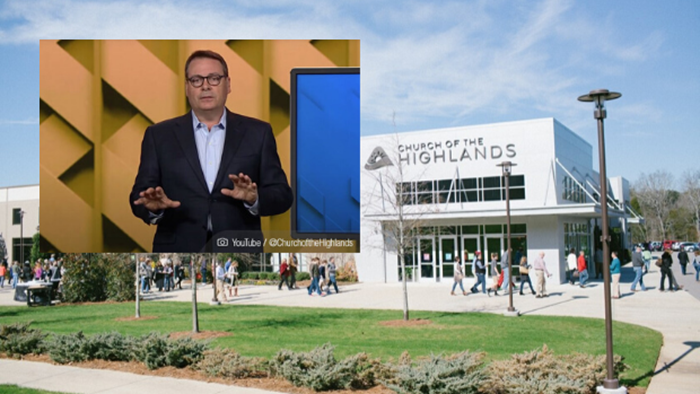 Ed Stetzer is executive director of the Wheaton College Billy Graham Center, serves as a dean at Wheaton College, and publishes church leadership resources through Mission Group. The Exchange Team contributed to this article, has updated it, and we will edit as more information is available.
---
Sometimes I feel like I am waking up in the scene from Mary Shelley's Frankenstein where everyone grabs pitchforks and torches and goes after the monster. Today, it seems, the one under attack is the pastor of the Church of the Highlands, the largest church in Alabama.
What happened?
It started with Charlie Kirk, the conservative leader of Turning Point USA. Kirk is an outspoken supporter of President Trump and has been at the center of several high profile conflicts over the past few years. Like many other social media figures, Kirk seems particularly skilled at provoking outpourings of admiration and disdain in equal measure. He knows how to use social media.
Most recently, Kirk has been one of the more visible proponents of the belief that, while racism is evil, claims of systemic racism are not true or are exaggerated. In this, Kirk represents a significant number of Americans, many of whom identify as evangelical. As I've written about, marched for, and spoken on, I believe that Kirk (and those who agree with him) are wrong.
Please see the video we just put out this morning from the National Association of Evangelicals, which (I believe) presents a better approach. Or, put another way, I'm of a different view and have been quite vocal about it.
Simply put, systemic racism is real and we have a key national moment to address it.
This controversy soon invovled Chris Hodges, the pastor of Church of the Highlands in Birmingham, when he liked some of Kirk's social media posts (details here). In a lesson about the power of social media to—as the Epistle of James warns about the tongue–set forests ablaze, Hodges quickly found himself in the midst of a firestorm. It looks like people are gathering with pitchforks and torches for him and his church.
More Context
So, why am I writing on this?
It's true that Hodges was a Trump supporter when I was not. He has also led his church to be the largest diverse church in Alabama, to engage the poor and marginalized, and to minister widely and well in his community. He and the church he leads has served the poor, engaged the sick, volunteered in the schools, and more. During the pandemic, Church of the Highlands has served thousands of meals, made masks, hosted blood drives, and helped other churches with online services.
He also liked some social media posts.
Get the pitchforks.
Worth noting: the church will continue to resource the schools even after their church was kicked out saying, "Going forward, we will continue our financial support of the school system and encourage others to do the same."
Of course, the school board was not offering the schools for free; the church was paying rent. Let me add that the people in that church are paying taxes to the school district and rent to use the space.
The Housing Authority of the Birmingham District and the Birmingham Board of Education also just cut ties with Church of the Highlands because Chris liked those social media posts.
But, the school district does not want the money and the housing authority does not want their service to the poor.
The Rise of Cancel Culture
While Hodges made a mistake, I am wary of the ways people have weaponized social media in response. I warned in Christians in the Age of Outrage that even as Christians need to be angry at injustice and hate, social media can make us exceptionally bad stewards of our anger.
This new practice is called the "cancel culture." And, as President Obama weighed in at a summit last year, it is both easy and ineffective at bringing lasting change. In fact, he condemned the notion of responding by 'canceling' someone: "That's not activism. That's not bringing about change. If all you're doing is casting stones, you're probably not going to get that far. That's easy to do."
Simply put, the cancel culture refers to the practice of withdrawing support for those in the public after they say or do something considered offensive by a certain group. That's what the Birmingham schools and housing authority just did.
The cancel culture communicates here, "We won't take your money, tweet liker. We won't let you serve our communities either. Out with you—because we are inclusive."
Perhaps a better way is to take the time to look at the larger picture of a person or organization. Each of us have said or done something at some point that deserves conversation or pehaps even confrontation. That is undeniable. But does every instance require a public shaming and, in this instance, a cessation of ties that has offered so much good to so many?
Here is a church that wants to serve—and has served—and is leading the way in its community. Unfortunately, as of this writing, "The Housing Authority of Birmingham Division voted on Monday to no longer allow church volunteers and clinic workers to do work at public housing communities."
They want to cancel the church's ministry to the poor because they did not like the pastor's social media likes?
Learning?
We can go counter-culture to "cancel culture."
While the rest of the world is leaning into its division and tribalism, Christians have the rare opportunity to learn from one another in ways that testify to the world about our shared identity in Christ.
As I wrote in Outrage,
"Scripture calls us to be people of the towel rather than people of the pitchfork. Jesus modeled this for us when he washed his disciples' feet (John 13:1-17) without exception or expectation. This was not a simple object lesson but an example of perfect service that reflected Jesus' humility when he came to earth (Philippians 2:1-11). Jesus then asked his disciples to imitate him in washing one another's feet. People of the towel grasp that Jesus wants us to humbly and lovingly serve others in every human interaction. Perhaps there is no place that is more important in our day than in digital conversations."
The best examples of this spirit in recent days have come from many African American brothers and sisters who have tirelessly held webinars, written articles, and responded to social media posts. With more reason than any other to walk away, I've been struck by their endurance in engaging for the sake of the Kingdom. Even in weariness, they press forward. Drawing upon the richness of their own theological tradition, it is a powerful lesson about what Christians can learn about our faith when we listen.
Click here to read more.
Source: Christianity Today