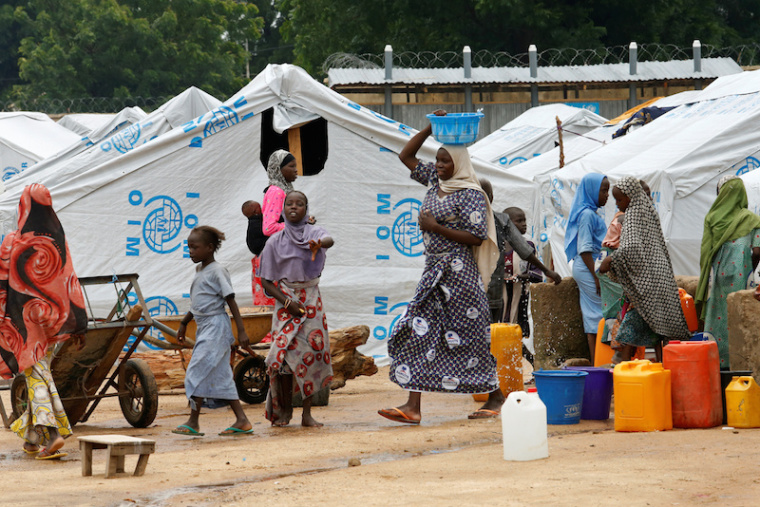 Authorities in the Borno state of Nigeria said Wednesday that at least 81 people were killed in an attack on a nomadic community believed to have been carried out by militants aligned with the Islamic extremist groups Boko Haram or Islamic State West Africa Province. 
The Borno government in northeast Nigeria released a statement Wednesday explaining that residents described how militants in armored tanks and trucks attacked the Faduma Kolomdi community in the Gubio local government area on Tuesday morning.
Along with killing dozens in the community, it's believed that the militants also abducted seven individuals, including the head of the village, and women and children.
A video posted on social media shows dead bodies scattered out across a dirt field.
The incident reportedly lasted hours. Borno State Gov. Babagana Umara Zulum traveled to the community on Wednesday in the wake of the attack.
According to the government's statement, a male witness told the governor that the armed men came to the village at around 10 a.m. on Tuesday.
"They gathered us and said they wanted to deliver religious sermon to us," the unnamed resident was quoted as saying in the statement. "They asked us to submit whatever arm we had. Some villagers gave up their dane guns, bow and arrows."
The survivor said the militants then began shooting "at will."
"Even children and women were not spared, many were shot at close range," the man said. "Many started running."
Five people were evacuated to a hospital for treatment, according to the state.
"We have buried 49 corpses here while another 32 corpses were taken away by families from the villages around us," the resident said. "The insurgents abducted seven persons including our village head. They went away with 400 cattle."
A resident of a nearby village also verified what the survivor told Zulum, the government said.
Zulum described the attack as "barbaric and unfortunate." He also noted that around the same number of individuals were killed in an attack last year in Gajiram.
"The only solution to end this massacre is by dislodging the insurgents in the shores of Lake Chad," the governor said. "Doing so will require collaborative regional efforts."
The Nigerian government has faced criticism over its inability to thwart attacks on civilians carried out by Islamic extremist groups, including Boko Haram and its offshoot, Islamic State West Africa Province.
Click here to read more.
SOURCE: Christian Post, Samuel Smith