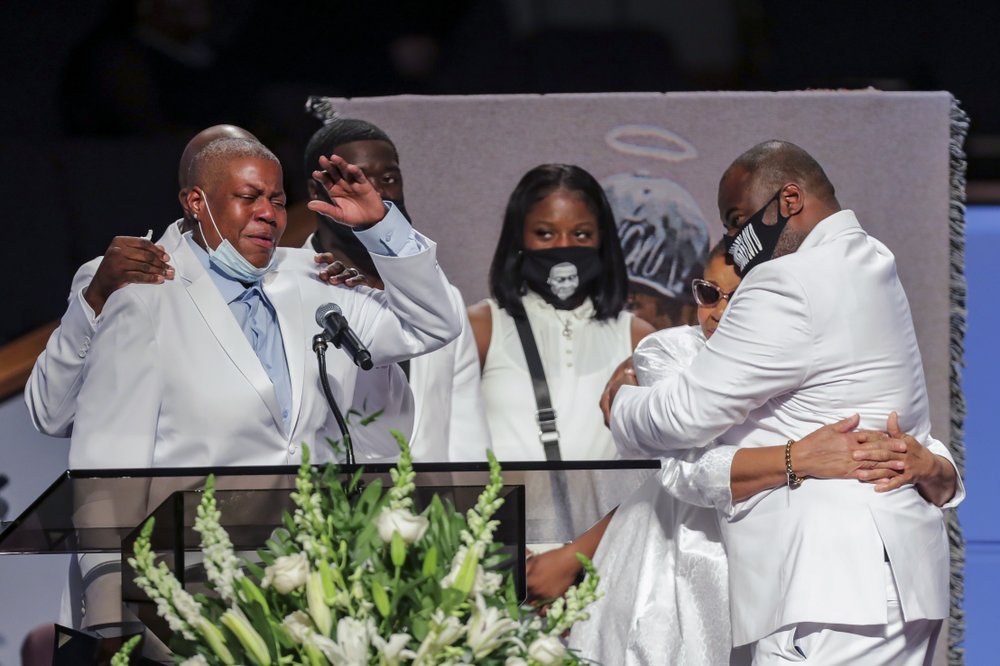 George Floyd's grieving family members remembered him as a "Superman" in life who's now been transformed into a "ghetto angel" in death at an emotional homegoing service punctuated by spirited praise and worship inside Fountain of Praise Church in Houston, Texas, on Tuesday.
"I just want to say, I'm gonna miss my brother a whole lot," one of Floyd's younger brothers said as he broke down before hundreds of mask-wearing mourners and politicians who came to say their final goodbyes after five days of public memorials. "I just want to say to him, I love you and I thank God for giving me my own personal Superman."
The family described sleepless nights and tears sparked by the Memorial Day passing of 46-year-old Floyd, who begged for his life and called for his mother moments before he died with the knee of a Minneapolis police officer still pressing on his neck. Family members shared glimpses of their pain and tried to tell the world about the type of man they lost.
"My uncle was a father, brother, uncle, and a cousin to many; spiritually grounded, an activist. He always moved people with his words," said Floyd's niece, Brooke Williams, who promised to fight for justice for her uncle as long as she lives. "The officer showed no remorse while watching my uncle's soul leave his body. He begged and pleaded many times just for you to get up, but you just pushed harder."
Derek Chauvin, 43, a former Minneapolis police officer who kneeled into Floyd's neck as he died, is now facing second-degree murder charges while three other former officers — J. Alexander Kueng, 26; Thomas Lane, 37; and Tou Thao, 34 — have been charged with aiding and abetting Floyd's murder.
"Those four officers were literally on him for nine minutes and then [didn't even] show they have a heart or soul. This is not just murder, but a hate crime," Williams said as she decried racism in the United States while trying to honor her uncle.
"I share happy memories with my uncle and that's all I have … memories. I still can't pull myself together to how he call out my grandma's name. I believe my grandmother was right there with open arms saying, 'Come home, baby. You shouldn't feel this pain. No one should feel this pain.'"
Williams shared how Floyd would pay her to scratch his head after long workdays and how he filled her mind with positive words.
"He always told me: 'Baby girl, you're going to go so far with that beautiful smile and that brain of yours," Williams recalled.
She also remembered a time she was worried about how she and her grandmother would get to another uncle's wedding and had no way to contact anyone. It was Floyd who jumped in to help.
Click here to read more.
SOUCE: Christian Post, Leonardo Blair