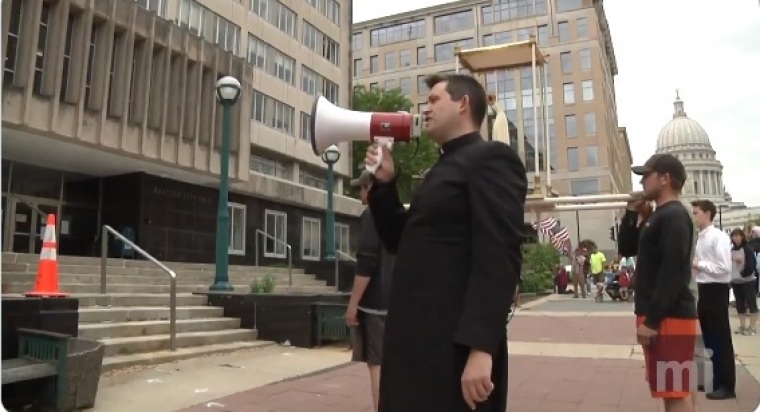 Days after dozens of Catholics demonstrated outside the Wisconsin state capitol, the Public Health Department for the city of Madison and Dane County changed its coronavirus guidance on Friday, removing a 50-person cap on in-person religious services that did not apply to any secular activities.
"Churches that wish to have services can do so up to 25% of their capacity," the Dane County public health department said in a joint press release with the city of Madison.
"The previous order — put in place to reduce the risk of an outbreak of COVID-19 from occurring where people gather — allowed churches to have as many services as they wanted, but asked they be capped at 50 parishioners per service," it continued.
Eric Rassbach, vice president and senior counsel at Becket, noted that houses of worship were being penalized and faced restrictions that were never imposed on other activities, such as mass protests.
"Putting an arbitrary numerical cap on worship services while allowing thousands to protest makes no sense from a legal or public health perspective. Most other governments nationwide have already lifted their COVID-related restrictions on worship. The few remaining holdouts should take note and come into compliance with the First Amendment," he said.
Rassbach was referring to the two weeks of nationwide protests spurred by the officer-involved death of George Floyd, a 46-year-old black man who was arrested in Minneapolis for passing off a counterfeit $20 bill to buy cigarettes at a convenience store.
In a letter sent to Dane County officials on behalf of Bishop Donald J. Hying and the Roman Catholic Diocese of Madison, Becket and the law firms Sidley Austin and Troutman Sanders, said the Madison and Dane County's "arbitrary" 50-person cap on houses of worship not only violated the First Amendment, but it also violated the state's constitution.
Click here to read more.
SOURCE: Christian Post, Anugrah Kumar