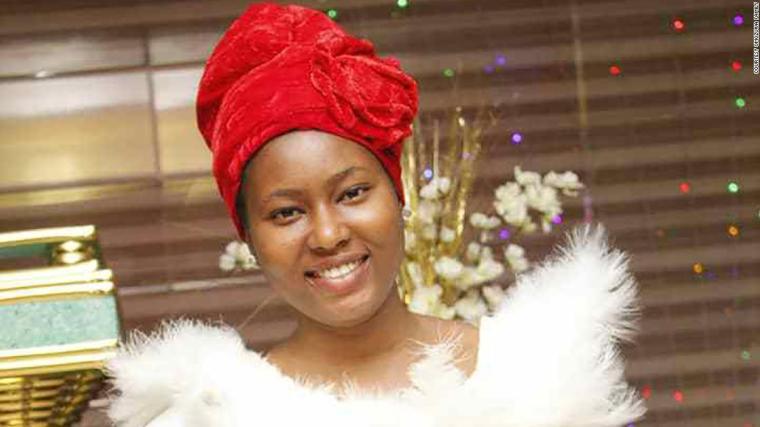 A 22-year-old Nigerian Christian student was raped and killed while she was in her church studying last Wednesday, family members have said.
Uwaila Vera Omozuwa, a University of Benin microbiology student, died last Saturday, two days after she was attacked inside the Redeemed Christian Church of God in Benin city, the capital of the Edo state in southern Nigeria.
Omozuwa, a member of the church's choir, was found half-naked lying in a pool of blood by a security guard, family members told media outlets.
"She wanted to be a minister and preach the word of God," Omozuwa's sister, Judith, told CNN, explaining that the church was her favorite place to be. "That she was murdered where she always found peace is just devastating."
Police have arrested one suspect believed to be connected to Omozuwa's murder. Edo Police Command spokesperson Chidi Nwabuzor told Nigerian media that the suspect was detained after the fingerprints found on the fire extinguisher she was attacked with were analyzed.
"The item used in the assault, which was a fire extinguisher, was recovered, immediately the operatives who were with some specialists screened the fingerprints which led to our suspect," Nwabuzor was quoted as saying. "Around the place of the incident, the suspect was arrested."
RCCG General Overseer Pastor Enoch Adeboye said in a statement released on social media that the denomination worked with authorities to ensure they "bring the perpetrators to book." RCCG is one of the largest Christian denominations in Nigeria.
"I and members of my Family condemn this act strongly and urge everyone to stay calm as we are already looking into the matter and cooperating with the police to establish the facts of the shocking incident," Adeboye wrote.
Reports of the woman's murder have sparked the hashtag trend #JusticeforUwa. Her death has sparked a national outcry.
Throughout Nigeria, many women and girls have been kidnapped, raped and killed by various actors, including Islamic militants, radical herdsmen and criminal gangs. Women and girls also suffer from acts of sexual abuse and domestic violence. The U.N.'s Children's Fund found in 2014 that about one-in-four girls have been victims of sexual violence in Nigeria.
Click here to read more.
Source: Christian Post