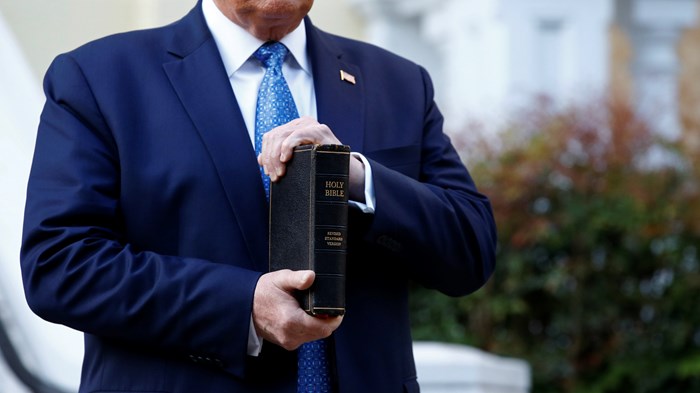 The American Bible Society says this is a time for Americans to hold on to the truths of Scripture, not just hold the book up as a prop.
The 200-year-old Christian ministry, which focuses on Bible access and engagement, issued a statement following President Donald Trump's recent photo op—brandishing a Bible in front of a Washington, DC, church as part of his response to the national protests over George Floyd's death—saying the holy text is "more than a symbol."
The society has launched a two-week-long free Bible giveaway on its website.
"In this time of pandemic fear and social isolation, in this time of racial injustice and senseless violence, in this time of economic uncertainty and generational pain, we should be careful not to use the Bible as a political symbol, one more prop in a noisy news cycle," said Whitney T. Kuniholm, senior vice president of the American Bible Society.
"Because, more than ever, we need to hear what's true. 'Let justice roll on like a river, righteousness like a never-failing stream!' (Amos 5:24 NIV). 'Yea, though I walk through the valley of the shadow of death, I will fear no evil: for thou art with me…' (Ps. 23:4 KJV)."
Episcopal clergy presiding over the church where the president made an appearance Monday evening expressed "outrage" at the incident. They say they were caught off-guard by the visit.
The president did not go inside the church, nor did he quote or read from the Bible during his remarks. He posed with the book in front of the building.
To Sattler College historian Aaron Griffith, the move appeared deliberate. "It might seem strange, but it all fits together for him and his supporters."
Click here to read more.
Source: Christianity Today