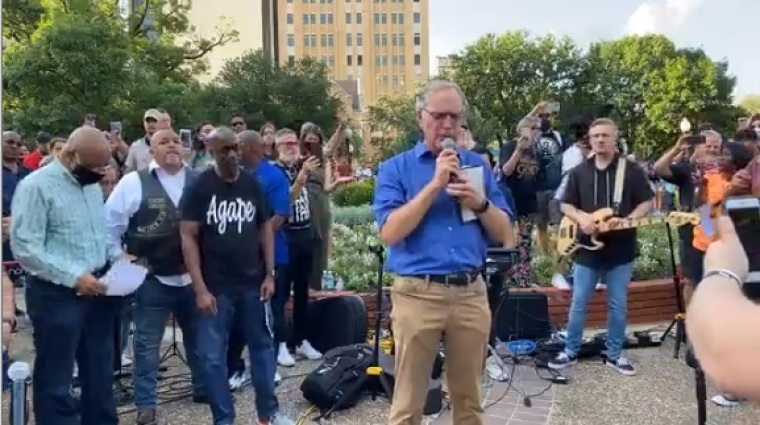 Popular Christian author Max Lucado took part in a prayer vigil in Texas Wednesday night amid the societal unrest in response to the killing of African American George Floyd. 
Lucado, the pastor at Oak Hills Church and bestselling author of several books and devotionals, took to his Facebook page to post videos of a prayer vigil he attended in downtown San Antonio's Travis Park along with dozens, if not hundreds, of others.
"I really wish you could be here with us worshiping Jesus in San Antonio," he said at the beginning of one video, adding that the crowd and worship band were "giving glory to God."
As Travis Park has been the site of demonstrations against police brutality this week, protesters participated in a night of prayer and worship to grieve the loss of 46-year-old Floyd, whose death in police custody in Minneapolis, Minnesota, on Memorial Day sparked nationwide protests, violence and looting.
The prayer vigil was organized in part by San Antonio's Community Bible Church — one of San Antonio's largest congregations — along with other churches.
Community Bible Church encouraged churchgoers to "exercise a high level of caution" as COVID-19-related concerns persist. The church also encouraged others who did not feel safe participating in public to join in prayer through Facebook Live.
The vigil in San Antonio comes as several other peaceful prayer vigils have been held nationwide in recent days following Floyd's death.
Lucado was one of several leaders who spoke and prayed over a microphone during the gathering. He cited Luke 4 to point out that God sent Christ to heal the brokenhearted, set free all who are oppressed.
"Where Jesus is, those who are traumatized find hope, find a fresh start, find a new beginning," he said. "Where Jesus is, every person is valued, the Gospel is declared."
Lucado posted another video as the worship band played the song "Break Every Chain."
Click here to read more.
SOURCE: Christian Post, Samuel Smith