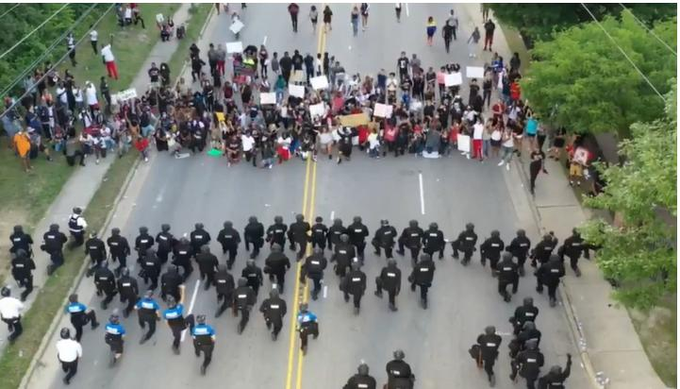 Police in Fayetteville, North Carolina, made a surprising move Monday during a tense stand off with protesters seeking justice in the case of George Floyd, who died after being restrained by police in Minneapolis.
All 60-plus officers knelt before the marchers on Murchison Road.
Video of the moment had been viewed more than 14,000 times on Twitter and got 15,000 reactions on Facebook as of Tuesday morning.
"As a show of understanding the pain that is in our community and our nation regarding equality, the #FayPD took a knee to show that we also stand for justice for everyone," the department wrote. "We are committed to listening and treating everyone with dignity and respect."
Witnesses say some officers and protesters responded to the move with tears.
"The protesters first got mad when asked to step back, but once the officers knelt down, it was on. Men and women alike started crying and then cautiously came toward the police officers to shake their hands," Mimamo Monika posted on Facebook.
"These are moments that will go down into history and will be taught to future generations."
The three-hour march ended when the officers knelt, "with hugs and hand shakes between the officers and protesters," WTVD reported.
Instances of police kneeling and even hugging protesters have been reported sporadically around the nation as protesters have demanded changes in the way law enforcement interacts with black people, McClatchy News reports.
A single officer was cheered by protesters after kneeling over the weekend in Lexington, Kentucky, and a line of city officers holding shields knelt in front of demonstrators Monday in Atlanta, CNN reported.
Source: News Observer