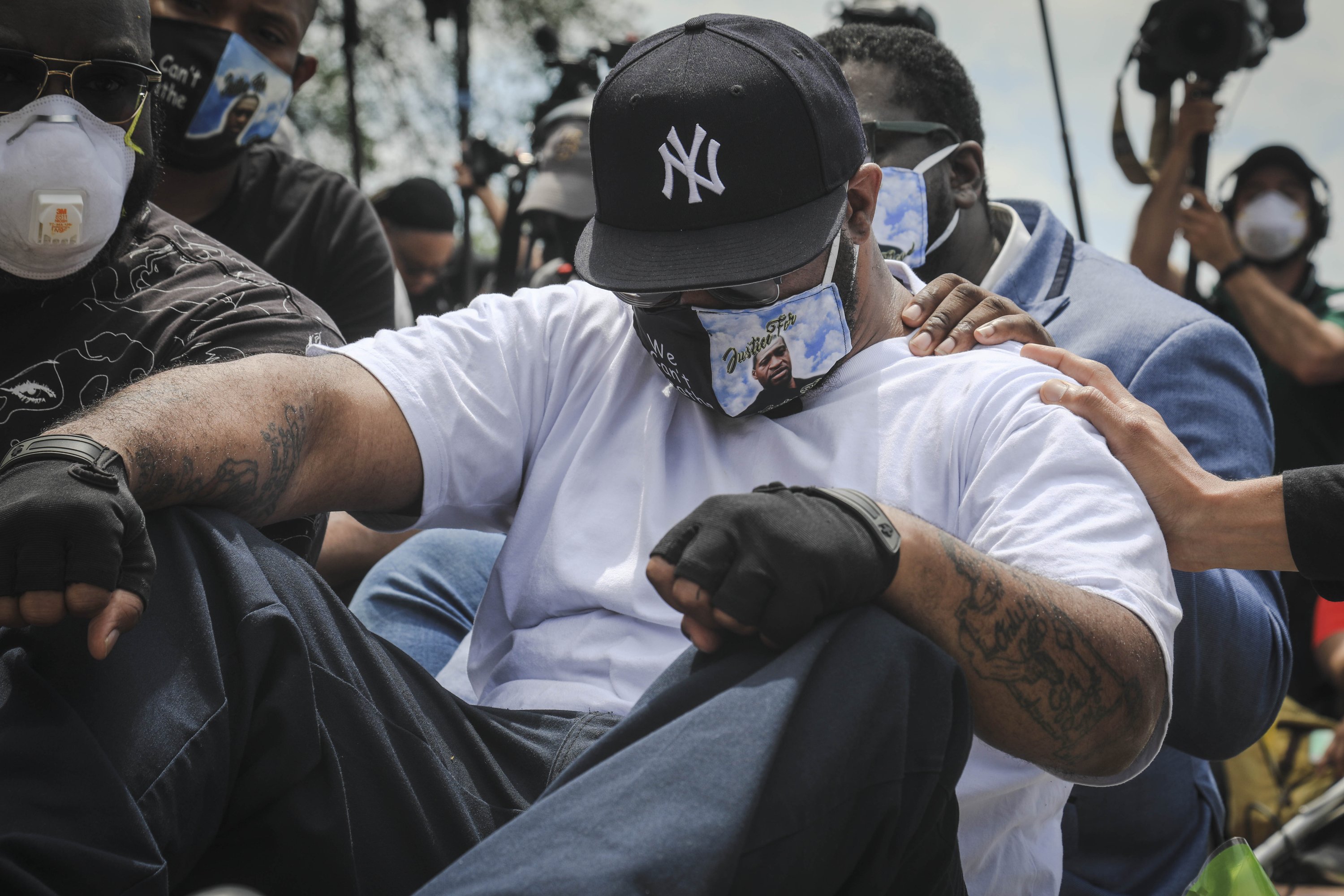 Hours after Terrence Floyd urged protesters in Minneapolis to channel their anger over police brutality and the killing of his older brother, George Floyd, into activism in the form of peaceful demonstrations and voting, violence escalated in cities throughout the country.
Floyd implored those gathered at the memorial site where his older brother was killed a week earlier to stop vandalizing and tearing down the community.
"I know he would not want y'all to be doing this," Floyd said, recounting that his brother had moved to the Twin Cities from Houston and loved the city.
"I Understand y'all upset, but I doubt y'all half as upset as I am," Floyd said. "So if I'm not over here wilding out, if I'm not over here blowing up stuff, if I'm not over here messing up my community, then what are y'all doing? What are y'all doing? Y'all doing nothing! Because that's not going to bring my brother back, at all. It may feel good for the moment, just like when you drink. But when it comes down, you're going to wonder what you did. My family is a peaceful family. My family is God-fearing."
"We're upset, but we're not going to take it. … In every case of police brutality, the same thing has been happening: y'all protest, y'all destroy stuff. And if they don't move, you know why they don't move? Because it's not their stuff, it's our stuff. So they want us to destroy our stuff. We're not going to move! So let's do this another way.
"… Let's stop thinking that our place doesn't matter, and vote. Not just vote for the president … vote for everybody. Educate yourself. Don't wait for somebody else to tell you who's who. Educate yourself and who you're voting for. And that's how we're going to hit them. … And we're still going to do this peacefully."
Those gathered around Floyd were move by his words and raised their voices with him as he led them in chanting for peace and justice.
Nationwide, however, lawlessness and mayhem ensued Monday night.
In St. Louis, Missouri, four police officers were shot last night after protests turned violent near the Metropolitan Police Headquarters, Fox News affiliate KTVI reported Tuesday, adding that the injuries were not life-threatening. "Two of the officers were shot in the leg, one in the foot, and one in the arm." All were discharged from the hospital on Tuesday.
An officer in Las Vegas, Nevada, was shot on the Strip Monday night after attempting to make arrests as people threw rocks and bottles at him before he was gunned down. He's now in "grave condition" and on life support, Las Vegas Metropolitan Police Sheriff Joe Lombardo said, according to Fox News affiliate KVVU. The suspect was apprehended and taken into custody.
Click here to read more.
SOURCE: Christian Post, Melissa Barnhart