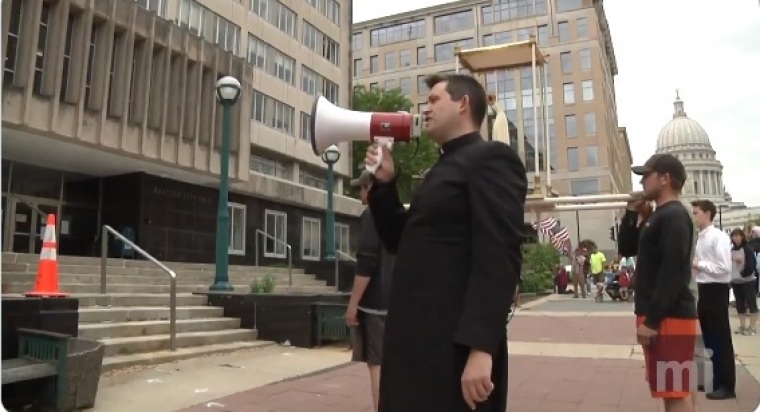 Churches in Dane County, Wisconsin, were allegedly threatened last week with $1,000 fines if they hold in-person services that are attended by over 50 people or exceed 25% of their buildings' capacity. In response, dozens of Catholics demonstrated outside the state capitol last Friday. 
However, local officials say they are seeking "voluntary" compliance while under Phase one of the county's reopening plan.
According to Fox6Now politics reporter Jason Calvi, several priests in the state capital, Madison, claim that local health officials warned them about the potential fine if they have over 50 people attend services on Pentecost Sunday or if they exceed the capacity limits set by a county stay-at-home order.
NBC 15 reports that Priest Greg Ihm of the Diocese of Madison posted a copy of a letter he received on social media, allegedly stating in a since-removed post that there was a fear "government watchers" would be present at services.
"This week, the Diocese of Madison was contacted by Public Health Madison and Dane County and informed that if our churches in Dane County do not comply with the 50-person limit on Section 2 of Emergency Order #3, the individual churches would be fined $1,000 per violation, per Section 9 of the order," the letter, shared on Twitter by Calvi, reads.
"It was made clear that government watchers would be present at parishes, in order to cite offending churches."
The letter explains that Public Health Madison and county officials contacted a "number of Catholic Parishes in Dane County to inform them of the 50-person limit and any violation thereof."
"As such, the Diocese of Madison, under grave protest, now is forced to direct Catholic churches and oratories in Dane County to comply with the 50-person limit for religious services, solely for the reason to avoid a citation and punitive enforcement," the letter reads.
In response to the threat from local officials, nearly 200 Catholic leaders reportedly marched in protest last week in Madison from the capitol building to the City-County Building.
According to The Catholic World Report, the "Rosary rally" was organized by two priests in the diocese named Brian Dulli and Richard Heilman.
Click here to read more.
SOURCE: Christian Post, Samuel Smith