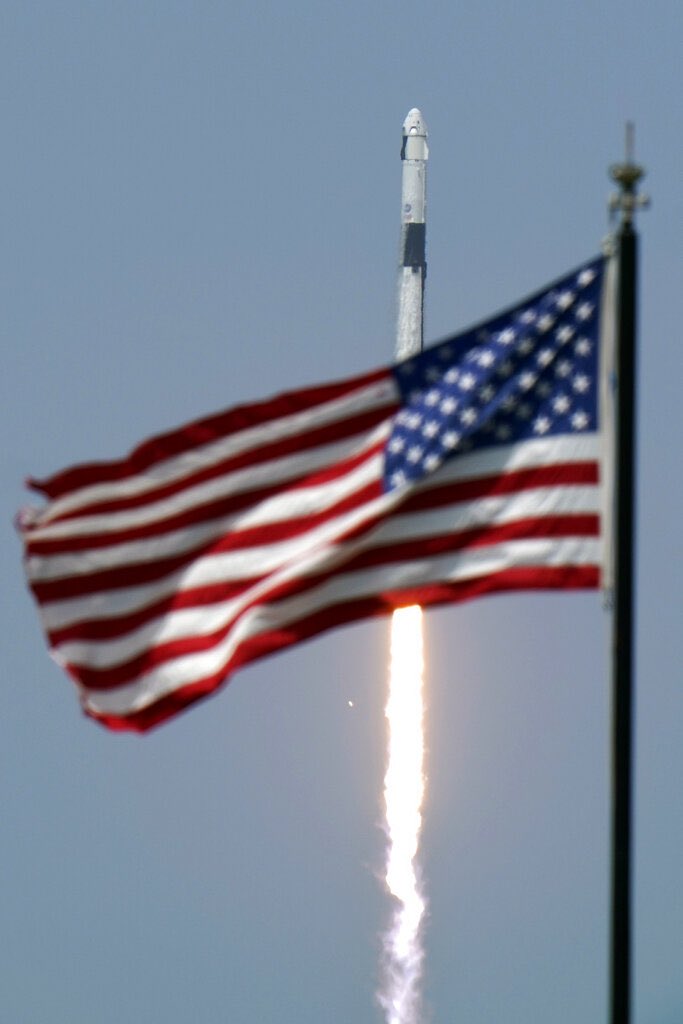 The private rocket company SpaceX has sent two Nasa astronauts into orbit.
It's the first time since the retirement of the shuttles nine years ago that an American crew has made the journey from US territory.
Doug Hurley and Bob Behnken are not only trialling a new capsule system, they are also initiating a new business model for Nasa.
The agency will no longer own the vehicles it uses but merely purchase the "taxi" service offered by SpaceX.
It's hoped companies other than tech billionaire Elon Musk's SpaceX outfit will come in to expand the market. The aerospace giant Boeing already has a contract with Nasa to do so.
The new capability will end the reliance of Nasa on Russian rockets and capsules to get its people into orbit.
It was a point picked up on by President Donald Trump, who came to Florida to watch the launch.
"Past leaders put the US at the mercy of foreign nations to send our astronauts into orbit. Not anymore," he said. "Today we once again proudly launched American astronauts on American rockets – the best in the world – from right here on American soil."
Hurley's and Behnken's Dragon ship left Earth atop its Falcon-9 rocket precisely on time – at 15:22 EDT (19:22 GMT / 20:22 BST).
Meteorologists had forecast only a 50:50 chance of favourable conditions around Florida's Kennedy Space Center at lift-off, but, as luck would have it, the weather window stayed open and the SpaceX controllers grabbed their opportunity.
Click here to read more.
SORUCE: BBC, Jonathan Amos