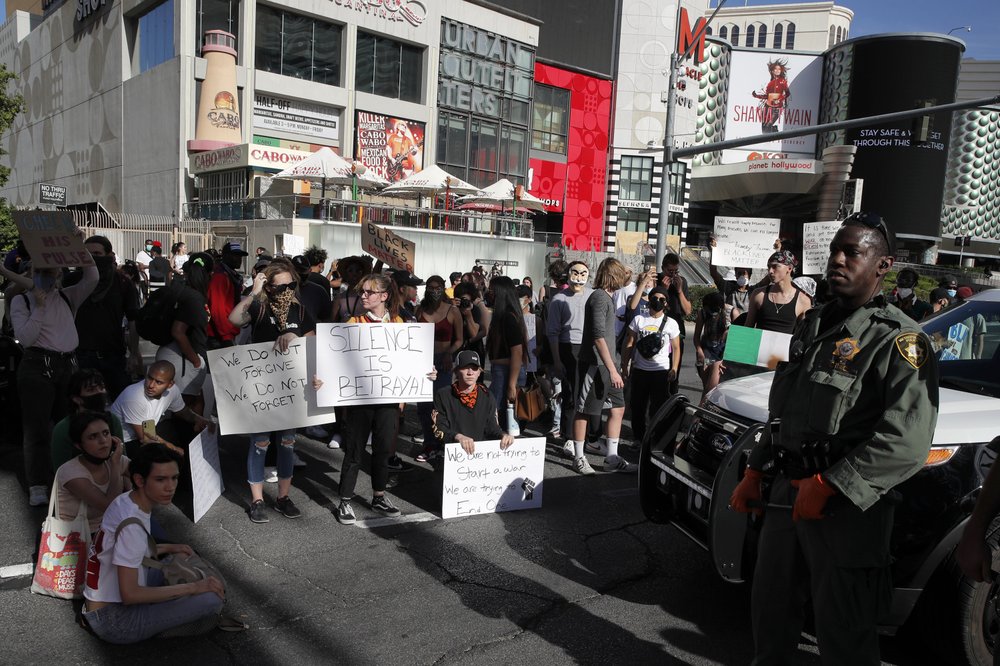 A Las Vegas Strip protest involving hundreds of people in memory of a black man killed by a white Minneapolis police officer erupted into sporadic clashes with police beneath neon casino marquees and at least 31 arrests.
There were no immediate reports of injuries to protesters or property damage in nearby resorts or stores. Two police officers were injured, including one hospitalized with a wrist injury, and one police vehicle was vandalized by graffiti, said Officer Larry Hadfield, a Las Vegas Metropolitan Police Department spokesman.
Police Capt. Dori Koren told reporters while arrests were being made that his department and its elected head, Sheriff Joe Lombardo, wanted to balance rights to protest with efforts to keep people safe amid rallies in several in U.S. cities following the death of George Floyd.
Lombardo on Twitter called Floyd's death and the "actions and inaction" of Minneapolis officers "deeply disturbing."
"We made it as easy as possible for people to just disperse or go home," Koren said. "These are individuals that intentionally wanted to either commit violence or intentionally were breaking the law."
More than 400 demonstrators — racially diverse and predominantly young adults — answered social media calls for action in memory the man who died late Monday after pleading for air for several minutes with a white Minneapolis police officer kneeling on his neck. A Minnesota prosecutor charged the officer on Friday with third-degree murder and manslaughter.
Some in the Las Vegas crowd led chants of "I Can't Breathe" and "No justice, no peace!" One homemade sign read: "Covid Shut Down Everything but Racism." Supporters cheered marchers from vehicles driving slowly alongside, honking on the otherwise quiet Las Vegas Boulevard before police shut down the road to traffic.
"We are fully aware of how delicate and problematic the situation is nationally," said Koren. "We're just asking they remain peaceful and obey the laws so we can keep everyone safe."
The demonstration at first was mobile, moving more than 2 miles (3.2 kilometers) up a sidewalk, stopping to rally in front of a shopping mall and briefly blocking traffic in front of the Circus Circus hotel-casino before patrol officers began arriving in police cruisers and the crowd marched south again.
Perhaps half the marchers wore facial coverings as they passed casino resorts making plans to reopen June 4 following 11 weeks of closure to prevent crowds from gathering and spreading the contagious COVID-19 illness.
As they returned to the Planet Hollywood rally starting point, the protest stalled and the crowd swelled — met by increasing numbers of police apparently attempting to keep them moving.
"The police kept multiplying and multiplying," said Alishia Hypes, a Las Vegas resort chef on furlough during the coronavirus pandemic who marched with her two adult sons for more than three hours before watching from a balcony as some in the group squared off with police deployed in a line.
"It was peaceful and then they began squeezing us together," Hypes observed. "It became less a protest than a confrontation between police and protesters."
Las Vegas police have in the past faced allegations of heavy-handed use of force and too many police shootings. The department made changes based on findings and recommendations following a 2012 review by the U.S. Justice Department's Office of Community Oriented Policing Services.
The march and arrests took place not far from a casino resort where Tashii Farmer Brown, 40, died in May 2017 after a Las Vegas police officer chased him outside and placed him in a martial arts-style chokehold.
The officer, Kenneth Lopera, was fired and faced charges including involuntary manslaughter that were later dropped after his attorney and union presented evidence that Brown died of cardiac arrest and methamphetamine intoxication. A federal civil rights and wrongful death lawsuit is pending.
"I think our community has stayed ahead of these things," said Roxann McCoy, president of the NAACP in Las Vegas who advocated for Las Vegas police reforms following Brown's death. She noted several dozen people invoked the Minneapolis case but protested peacefully late Thursday on the Strip. She did not take part in Friday's march.
"You only know if you learn something if you face the same situation again and respond differently," McCoy told The Associated Press on Friday. "We try to learn from the past so we don't make the same mistakes."
____
Source: Associated Press – KEN RITTER