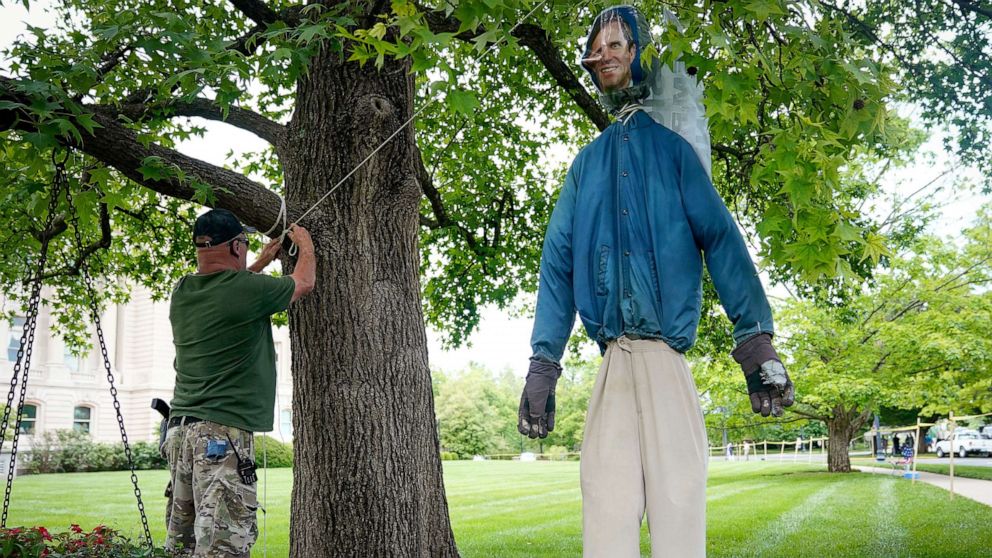 Democratic and Republican leaders denounced gun rights supporters for hanging an effigy of Kentucky Gov. Andy Beshear from a tree outside the state capitol building during a Memorial Day weekend demonstration.
The symbolic lynching occurred on Sunday at a rally by gun rights groups that was initially organized to celebrate Second Amendment freedoms to bear arms. But as the rally in Frankfort went on, it turned into a protest against Beshear's coronavirus-prompted stay-at-home orders.
As country singer Lee Greenwood's hit song "God Bless the U.S.A." played in the background, a demonstrator wearing camouflage pants and what appeared to be holstered handgun strung a rope over a tree limb and with the help of another man hoisted the effigy bearing a picture of Beshear and a handwritten sign tacked to it reading, "Sec Semper Tyrannis," a Latin phrase meaning "Thus always to tyrants."
Video of the episode, taken by a reporter from the Courier-Journal newspaper of Louisville, showed at least one child standing next to a baby carriage as she watched the adults hang the Beshear effigy.
While the group Take Back Kentucky posted a notice on its Facebook page advising members of protests at the capitol building on Saturday and Sunday, a spokesman for the group denied members were involved in organizing or sponsoring the event.
"We notified our members that there was going to be two separate events and to let people take their choice to go to whichever one they wanted to. We were in no way involved with the planning of it, the organization of it and we had no knowledge of what was going to take place," Richard Treitz, moderator of Take Back Kentucky, told ABC News.
"We believe in the Constitution. We believe in the Second Amendment," Treitz said. "We're not in favor of these lunatic activities like an effigy and we absolutely condemn things like banging on the windows of the Governor's Mansion."
Click here to read more.
SOURCE: ABC News, Bill Hutchinson