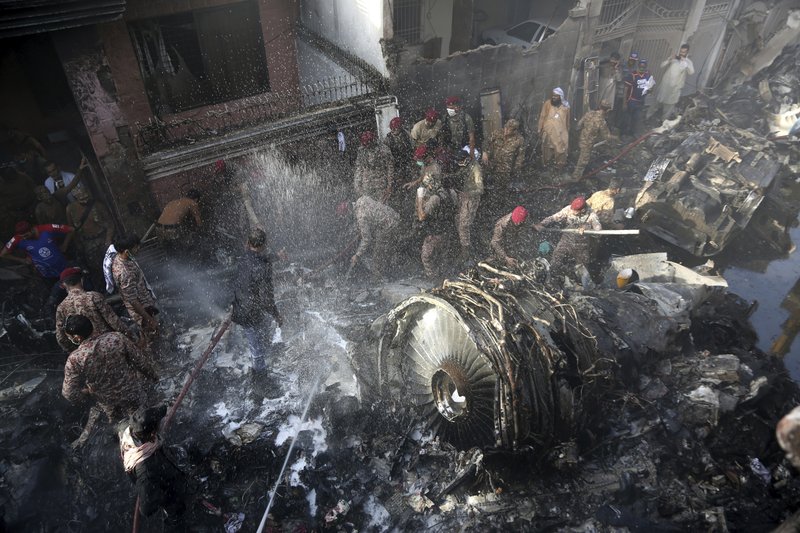 A passenger jet carrying 98 people crashed Friday into a residential neighborhood of the Pakistani city of Karachi. Pakistan International Airlines said flight PK 8303 went down with 91 passengers and 7 crew on board.
There was no official word on the number of casualties, but Pakistan's leader tweeted condolences "to the families of the deceased."
Karachi Mayor Wasim Akhtar was quoted by The Associated Press as telling reporters at the scene that all those who had been on board the jetliner died in the crash, but officials with the national government said at least two people from the plane were believed to have survived.
Some of the confusion was likely between casualties among those on the ground when the plane came down — it destroyed five or six houses — and those on board the aircraft.
CBS News' Maria Usman said the PIA Airbus A320 crashed into a neighborhood called Jinnah Gardens, close to the port city of Karachi's airport.
A source at the airport told CBS News the pilot had informed the control tower that one of the plane's two engines had failed. The control tower told the pilot that two runways were clear for landing, but air traffic control lost communication with the crew and the plane crashed shortly after. Witnesses reported seeing an engine on fire before the plane came down.
Rescue efforts were underway and an official with Pakistan's Interior Ministry told CBS News there were survivors, but no numbers could be confirmed, and it was unclear whether he was referring to people who had been on the ground or in the plane at the time of the crash.
Click here to read more.
SOURCE: CBS News, AFP