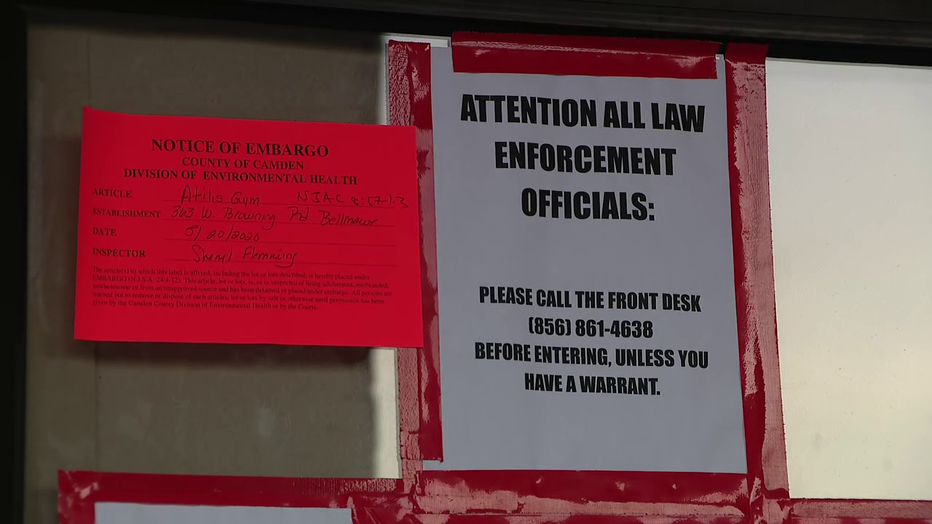 BELLMAWR, N.J. – The New Jersey Department of Health has shut down the Atilis Gym in Bellmawr after state officials issued a notice of embargo.
The gym, which has opened every day this week in defiance of the Gov. Murphy's executive order, reportedly had a sewage back up on Wednesday that caused patrons to evacuate the building. Emergency plumbing crews were called to the facility to correct the issue.
While it's unclear at this time what the state's embargo on the building means legally, the Atilis Gym co-owner Frank Trumbetti says the building will not open on Thursday. Instead, gym members will workout in the parking lot.
Co-owner Ian Smith says he and Trumbetti plan on "dealing" with the notices and reopening again on Friday. He says they could physically open their doors Thursday, but they do not want to violate the health department's order.
"We could open up. The place is not padlocked. However, we will not defy a health code order," Smith said.
"According to our beliefs, we have been allowing our members in because of the wording of Governor Murphy's executive order stating the gym had to remained closed to the public," Trumbetti added. "We have stood firm, as long as we let members in, we are not doing anything that's against the law and criminal. The paperwork that's on the window, we don't know if it's actually deemed legal or not because they put it on in the middle of the night. We were not served with those papers."
Meanwhile, Camden County Freeholder Louis Cappelli Jr. on Friday said he supports the state's decision to uphold Murphy's executive order. Cappelli Jr sympathized with small business owners saying that no one is immune to the economic impact of the virus, but a healthy population will is paramount to economic success.
"I am hopeful that this situation can be resolved cooperatively, and that the gym will be able to welcome back their patrons when, and only when, it has been deemed safe to do so by the state of New Jersey," Cappelli Jr. said in a statement.
Click here to read more.
Source: Fox 5 NY