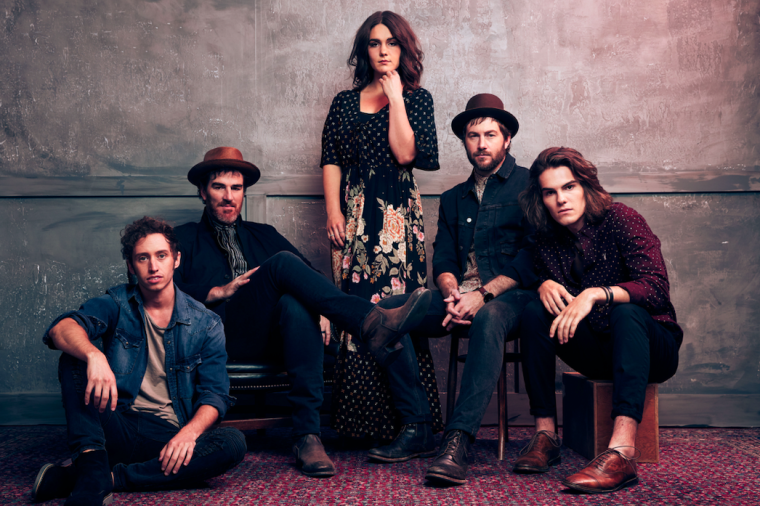 Chart-topping Christian band We The Kingdom believes there's never been a more important time to declare God's truth in the face of fear, especially amid the anxiety and uncertainty fueled by the coronavirus. 
Last week, the Georgia-based group — made up of Ed Cash, Scott Cash, Franni Rae Cash, Martin Cash and Andrew Bergthold — released their sophomore single "Don't Tread On Me," a powerful anthem that reminds believers of the power that is theirs through Christ.
"We wrote the song before the coronavirus hit, but we thought through the irony of releasing it right now," Scott told The Christian Post. "I think that people are terrified, and rightfully so. We're facing an enemy in the world that we've never seen before. When we face uncertainty, it can often bring fear. The song is really timely and we hope that listeners can use it as a tool when facing the unknown and the fear that comes along with that."
The single release comes on the heels of the group's hit "Holy Water" featuring Grammy Award-winning artist Tasha Cobbs Leonard. The song, accompanied by a live video, spent seven consecutive weeks at No. 1 on the Billboard Christian AC chart and amassed 27 million global streams.
"I think it's important for people to know that in the battle of life, it's OK to declare what we know about ourselves and the truth that we live by," Martin said. "An important tool in the battle is not only to pray and be in communication with the Lord, but to declare your truths and beliefs as well."
Earlier this year, the group released the EP ​Live Acoustic Sessions which included acoustic renditions of some of their fan-favorites, and they can also be heard as featured artists on multiple tracks on Bethel Music's latest album, Peace.
We The Kingdom, which has opened for other chart-topping Christian artists including Chris Tomlin, Kari Jobe, and Zach Williams, plans to resume their touring schedule this fall. The group recently spoke with CP about their catchy new single, their songwriting process, and their heart for providing hope amid difficult times.
The interview has been lightly edited for clarity.
CP: What was the inspiration behind "Don't Tread on Me?"
Scott Cash: The track to the song just had a gritty vibe to it. We were thinking about what everyone collectively struggles with and what's important to talk about, and honestly, the lyrics just started spilling out. We wanted to try and find the words to be able to speak God's truth in the face of fear. We wanted to be able to give ourselves some words to sing to remind ourselves of God's promises and who He is and that the blood of Jesus is powerful enough to cover our greatest struggles.
CP: The song repeats the words, taken directly from Isaiah, that "no weapon formed against you shall prosper." How can this verse be applied amid all the unrest and anxiety stemming from COVID-19?
Franni Rae Cash: When you remind yourself of the Word of God and the fact that God is sovereign and stronger than any enemy, it's so comforting. You know that no matter what happens, God's plan and His intention will always win. Especially with COVID-19, it's comforting to know that the Lord is in control, even when it doesn't feel like it. He might be allowing that obstacle to happen so that it can draw us closer to Him.
CP: Can you talk a little bit about the songwriting process behind "Don't Tread On Me?"
Scott Cash: Martin and I were in the studio working on music for a different song when somehow the phrase "Don't Tread on Me" started floating around. We thought it was a really powerful statement. There's a history to that phrase from the American Revolution; it's very charged and intense, but we wanted to try and re-frame that phrase and apply it to a song.
We played it for the first time last summer on a whim and Andrew added some amazing things to the track. It took a while to shape, but as it came to fruition, we just kept getting more and more excited about it. It's probably my favorite song to play live. The first time we played it live, the room just had strong vibrations and it was a very special moment and it really encouraged us to release it.
Click here to read more.
SOURCE: Christian Post, Leah MarieAnn Klett