Jody Hassett Sanchez is a journalist and documentary filmmaker. Her film More Art Upstairs, which explores questions about art and beauty, is available on iTunes and Amazon Prime.
---
The cashier at Trader Joe's couldn't get over how many fresh flowers customers have been purchasing during the pandemic. "People load up their carts with pasta and frozen foods and then they buy at least two bouquets of flowers," she told me. "It doesn't really make sense."
Beauty persists, especially in times of uncertainty or hardship. Holocaust survivor and concert pianist Alice Herz-Sommer performed at more than 150 concerts during the two years she spent at Theresienstadt concentration camp. She later told a reporter, "People ask, 'How could you make music?' We were so weak. But music was special, like a spell … the world is wonderful. It is full of beauty."
While some of us are first responders or have lost a loved one to COVID-19, most of us are contending with circumstances far less devastating than Herz-Sommer's. Still, death stares at us hourly through the garish news graphics tracking the many lost to the virus.
"Living each day under the stress of the pandemic, our need for beauty is on the surface—we are feeling it, even if we can't fully articulate it," said Charlie Peacock. The four-time Grammy-winning composer, producer, and recording artist has worked with everyone from Switchfoot to The Civil Wars. "Gratefully, the vocational beauty makers are working overtime to fulfill this need. When has there ever been a time when so many artists of every kind are sharing beauty with the world—for free?"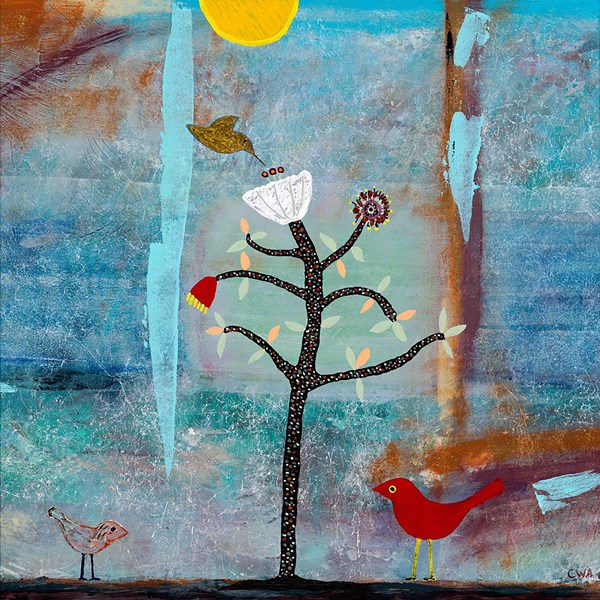 Image: "Confident of This" by Charlie Peacock
He is creating new music and paintings daily while self-quarantining in Nashville, including a song with friend Sarah Masen Dark. "It did not start out to be any commentary on our new world, but in gradually learning what my own work was making me think and feel, I do believe it is linked."
Peacock is not alone. Poets, painters, philosophers, and theologians have historically championed the conviction that beauty is even more essential during our darkest periods.
Pope John Paul II affirmed in his 1999 "Letter to Artists," that "society needs artists, just as it needs scientists, technicians, workers, professional people, witnesses of the faith, teachers, fathers and mothers." This pandemic requires first responders, scientists, grocery store clerks, delivery people, and, yes, artists who recognize their responsibility, as Pope Francis put it, to be "custodians of beauty, heralds and witnesses of hope for humanity."
Scientists may try, but beauty can't be measured by the same data that defines our disposition right now.
"It is not something we can possess. Beauty is the outcome of truthfulness, mastery and goodness working together," encaustic painter Marissa Voytenko told me. She uses the ancient technique involving hot wax to create abstract works that have been exhibited across the US and the Ukraine. "When life becomes too heavy to bear and circumstances too dark to see a way forward, beauty has the ability to alleviate fear and offer hope."