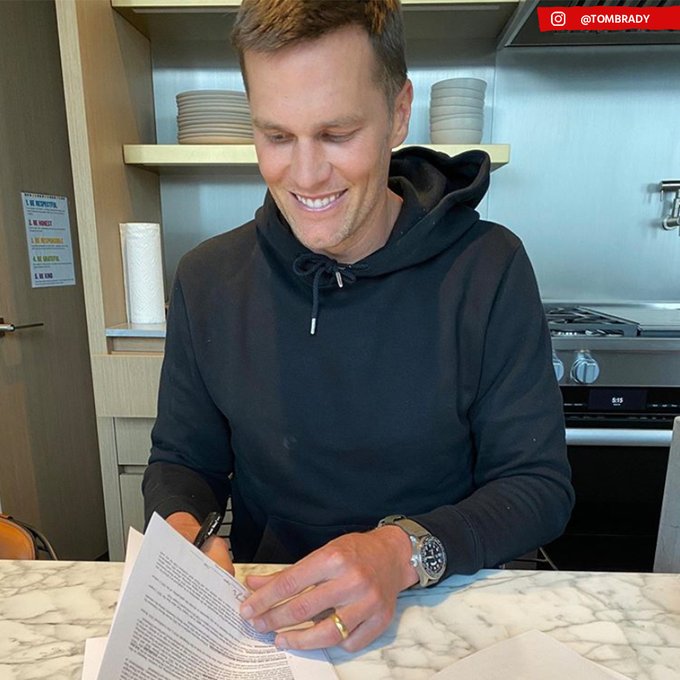 Signed, sealed and delivered — Tom Brady is officially the Tampa Bay Buccaneers' new starting quarterback.
The six-time Super Bowl champion, who had spent 20 seasons with the New England Patriots, took to social media Friday morning to announce that he had signed his contract.
Sources told ESPN's Adam Schefter that it is a two-year deal worth $50 million that is all guaranteed. It also includes another $9 million in incentives — $4.5 million in incentives per year — and the contract prohibits tags and trades, per sources.
"Excited, humble and hungry … if there is one thing I have learned about football, it's that nobody cares what you did last year or the year before that … you earn the trust and respect of those around through your commitment every single day," wrote Brady on Instagram on Friday. "I'm starting a new football journey and thankful for the @buccaneers for giving me an opportunity to do what I love to do."
Brady, 42, leaves New England with six Super Bowl rings and 41 playoff starts since 2001. He will now go head-to-head with Drew Brees and Matt Ryan twice a year in the NFC South.
In recent years, Brady has repeatedly said that his goal is to play until he is 45, but he and the Patriots couldn't come to an agreement on a contract extension last offseason. That created a path for Brady to explore his options as a free agent.
The Bucs jumped on it quickly, offering one of the most talented young receiving tandems in the league in Pro Bowlers Mike Evans and Chris Godwin, who both eclipsed 1,100 yards last year despite not playing full seasons, along with two 6-foot-5 tight ends, Cameron Brate and O.J. Howard.
"Tom Brady is an icon and a winner," said linebacker Lavonte David, whom many consider the heart and soul of the Bucs' locker room. "Excited to have a guy with that type of pedigree in our locker room. Looking forward to the upcoming battles."
Click here to read more.
SOURCE: ESPN, Jenna Laine