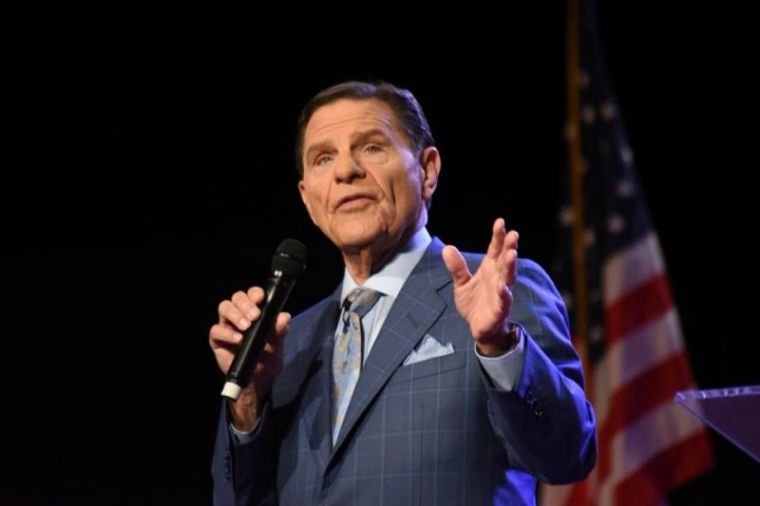 Texas-based televangelist Kenneth Copeland of Kenneth Copeland Ministries urged people not to panic over the new coronavirus, calling it a "very weak strain of flu" that healthy people shouldn't fear.
"It (coronavirus) is so weak their symptoms are almost alike," Copeland said Wednesday in a Facebook Live broadcast of his Victory News report. "Some people had it and didn't even know it. They just haven't found the way to knock that thing in the head yet."
Copeland's broadcast began with a highlight of a different strain of the coronavirus listed on the label of a bottle of Clorox to demonstrate that other strains of the virus have been around for a while.
He also pointed to a recent announcement  from scientists at Israel's The Galilee Research Institute that they are on the cusp of developing a vaccine for the new coronavirus in the next few weeks.
"Our basic concept was to develop the technology and not specifically a vaccine for this kind or that kind of virus," Dr. Chen Katz, MIGAL's biotechnology group leader told the Jerusalem Post Wednesday. "The scientific framework for the vaccine is based on a new protein expression vector, which forms and secretes a chimeric soluble protein that delivers the viral antigen into mucosal tissues by self-activated endocytosis, causing the body to form antibodies against the virus."
He added: "We are in the middle of this process, and hopefully in a few weeks we will have the vaccine in our hands. Yes, in a few weeks, if it all works, we would have a vaccine to prevent coronavirus."
Copeland then said that much of the reaction to the new coronavirus has been fear-based and pointed to 2 Timothy 1:7 to show why God would prefer for Christians to have faith that they will overcome the virus even if they are infected.
"For God hath not given us the spirit of fear; but of power, and of love, and of a sound mind," he said. "So fear is a spirit and that spirit is the devil and he is the spirit of death."
Copeland then explained that having fear is to actively put faith in the power of the devil.
"So fear is faith in him (devil). It's a spiritual force. Faith comes by hearing and hearing by the word of God. Fear comes by hearing and a hearing by the word of the devil. The lies of Satan. All worry is fear-based. All anxiety is fear-based. All depression is fear-based. Amen. So fear of this virus, forget about corona. It's another form of the flu," he said.
Click here to read more.
SOURCE: Christian Post, Leonardo Blair