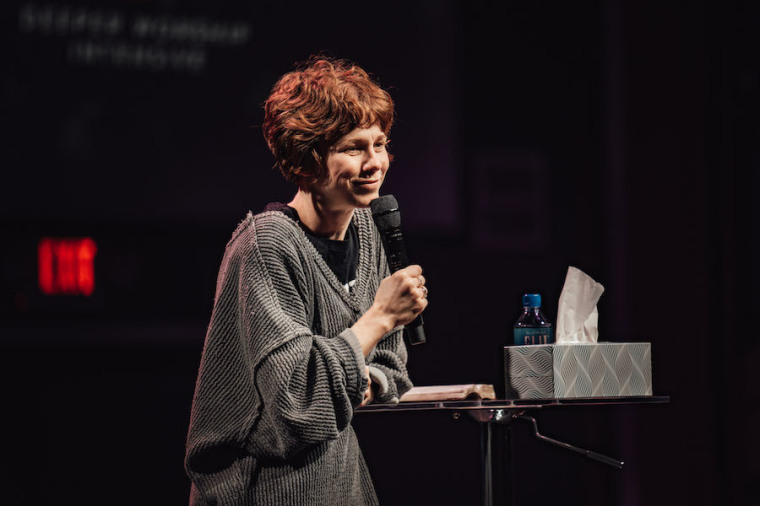 Worship leader Steffany Gretzinger spoke about motherhood and her initial concerns about balancing a family and devotion time with God in a panel discussion at the Deeper Worship Intensive last week.
Known for leading thousands in corporate worship, Gretzinger became a mother a few years ago and told the pastors and worship leaders gathered at gospel singer William McDowell's second annual Deeper Worship Intensive that she loves to show her 5-year-old daughter the beauty of worshiping God.
Gretzinger was asked to share her thoughts on the topic of raising children who will not resent ministry as she devotes her life to the work of God. Singer Nicole Binion, who also was a part of the panel, said, "Your kids will love what you love," and Gretzinger completely agreed.
"I'm a pastor's daughter. I'm 35, and it was clear to me that my daddy loves Jesus more than anything," Gretzinger revealed. "He would be the first to tell you that he wasn't perfect, but I remember the worn-in holes in the stairs from knees in prayer. Now, I know that's not everyone's story, and the beauty is, there's a better bloodline."
The singer said her father told her she was beautiful "every day" of her life and his encouragement made her who she is today.
"I know that's not everyone's story," she said, "but as leaders, as parents, I want to be a parent to a generation. I want to mother a generation because the difference is, an incredible leader can point you in the right direction, but a mother and father will walk you all the way home," Gretzinger told Deeper Worship attendees.
The "Love Never Fails" co-writer became well known for creating hits for Bethel Music, a worship ministry that formed as an extension of Bethel Church in Redding, California. The church became a global voice in worship music and Gretzinger led worship for them until 2019 when she moved Nashville, Tennessee.
Gretzinger was married in 2013 and admitted that she "cried" before her wedding because she didn't want to love anyone as intensely as she loves God. She revealed that marriage helped her expand her capacity to love and then a year later, God saw fit for her family to increase with the birth of her first child, whom they named Wonder.
"I wanted Jesus to be everything. So I remember when I was about to have [my daughter], Wonder, I could feel my belly, I still cried and I said to the Lord, 'How am I gonna love you with less time?" she asked.
Despite her concerns, Gretzinger said God has used her daughter to draw her even closer to Him.
Click here to read more.
SOURCE: Christian Post, Jeannie Law