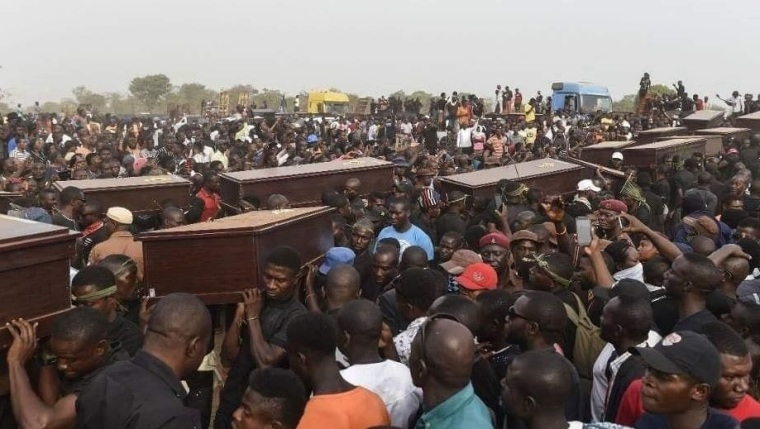 A Nigerian civil society organization claims that no fewer than 350 Christians have been killed across the West African country since the start of 2020 and estimates that about 11,500 Christians have been killed since 2015. 
"Nigeria has fully become a killing field of defenseless Christians," the Anambra-based nongovernmental organization International Society for Civil Liberties and Rule of Law (Intersociety) said this week in a new special report, titled "Nigeria: A Killing Field Of Defenseless Christians."
"Available statistics have shown that between 11,500 and 12,000 Christian deaths were recorded in the past 57 months or since June 2015 when the present central government of Nigeria came on board. Out of this figure, Jihadist Fulani herdsmen accounted for 7,400 Christian deaths, Boko Haram 4,000 and the 'Highway Bandits' 150-200."
The organization, which is headed by Christian criminologist Emeka Umeagbalasi, has monitored violence against Christians in Nigeria since 2010 through a team of criminologists, lawyers, journalists, security, and peace and conflict studies graduates.
Nigeria has been marred by violence in the last decade-plus due to the rise of extremist organizations in the northeast like Boko Haram and its splinter group, the Islamic State's West Africa Province.
In recent years, massacres carried out by radicalized Fulani herders against predominantly Christian farming villages in Nigeria's Middle Belt have also driven communities from their homes.
Additionally, bandit gangs have been responsible for carrying out kidnappings along some major highways.
The United Nations estimates that about 2 million people have been internally displaced across Nigeria and 11 million people in need of assistance. An additional 550,000 are said to be displaced in neighboring countries of Cameroon, Chad and Niger.
"While 100 percent of the victims of Jihadist Herdsmen attacks across Nigeria are Christians, the estimated 4,000 Christians killed by Boko Haram were part of the estimated 6,000 [people in total] massacred by the sect since June 2015," the report explains.
"Generally, many, if not most of the victims of Boko Haram/ISWAP attacks in Nigeria's Northeast are Christians. On the part of 'Bandits/Highway Kidnappers' in Northern Nigeria, most of their rural victims are Muslims while many, if not most, of their roadside victims are Christians traveling to northern or southern parts of the country using the Birnin-Gwari Federal Road, near Kaduna, etc."
Click here to read more.
SOURCE: Christian Post, Samuel Smith