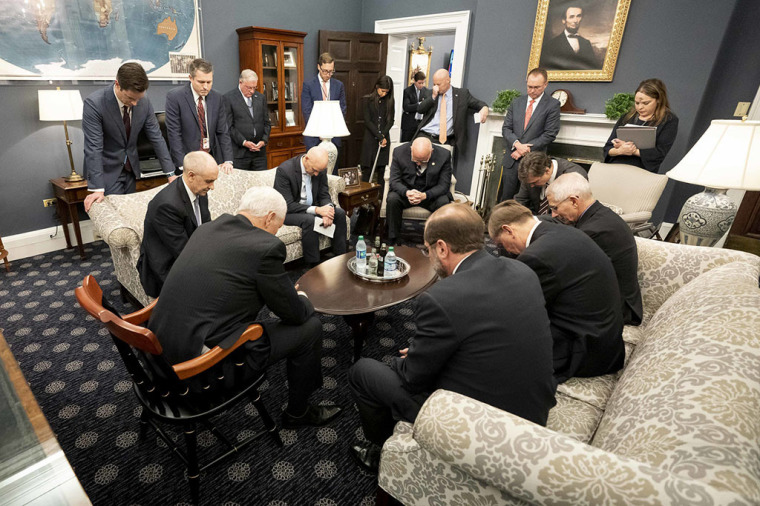 Vice President Mike Pence received a new round of criticism this week from some on the political left after the White House released a picture of the vice president praying with the coronavirus task force in his West Wing office. 
The White House Flickr account posted a photo taken on Feb. 26 showing Pence praying with members of the White House Coronavirus Taskforce in his White House office. The photo shows Pence in a circle with others bowing their heads in prayer.
The gathering occurred as Pence was assigned by President Trump to spearhead the U.S. federal government's response to the global outbreak of coronavirus, also known as COVID-19.
As of Wednesday, coronavirus has claimed the lives of at least nine Americans and there are at least 100 confirmed COVID-19 cases in the U.S. Additionally, experts have warned that the coronavirus outbreak could potentially be described as a "pandemic."
After the taskforce prayer photo began circulating on social media, it didn't take long for some on the political left to mock the prayer or take offense to it.
Hemant Mehta, who writes for Patheos.com's "Friendly Atheist" blog, wrote that "it's not a joke when people say these Republicans are trying to stop a virus with prayer."
"What else did anyone expect?" Mehta asked. "Science? Reason? Something sensible? Of course not. If this virus truly becomes a pandemic, we're at the mercy of people delusional enough to think their pleas to God will fix the problem. The same God who presumably created the virus, at least in their minds, will somehow make sure it hurts only a handful of Americans … and a ton of Chinese people."
Dr. Angela Rassmussen, a virologist at Columbia University, also criticized the prayer.
"I have yet to attend a scientific meeting that begins in prayer," she wrote.
Thomas Chatterton Williams, a contributing writer with the New York Times Magazine, shared the photo on Twitter and commented that "we are so screwed."
"They're treating this disease with the seriousness and urgency they bring to gun violence," Williams wrote in a tweet. "While some are taking solace in the thought that this administration — which disbanded the CDC pandemic team in 2018 — performatively prays for the camera, this is a chilling window into their actual epidemiological unpreparedness and incompetence."
The Associated Press reported last week that claims the CDC was ill prepared is not accurate. "For starters, Trump hasn't succeeded in cutting the budget. The National Institutes of Health and the Centers for Disease Control and Prevention aren't suffering from budget cuts that never took effect."
Williams' response drew the ire of some Christians, including Tennessee pastor Steve Gaines, a former president of the Southern Baptist Convention.
Click here to read more.
SOURCE: Christian Post, Samuel Smith