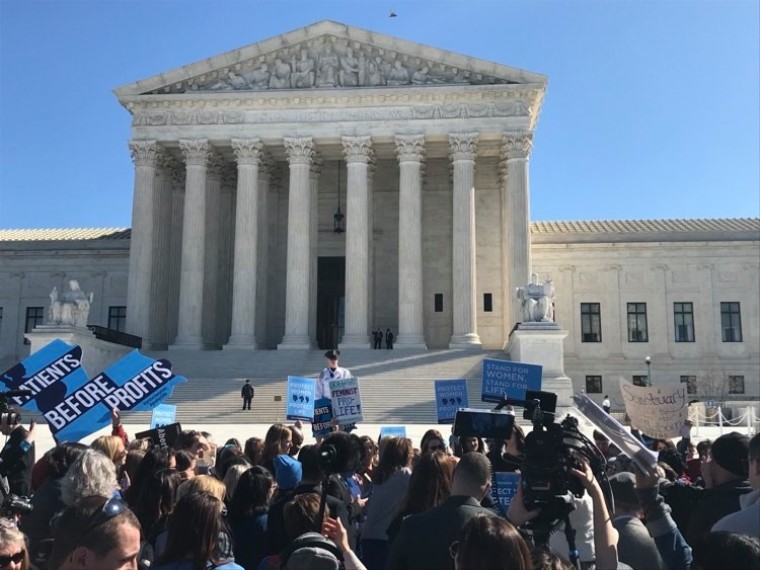 A Louisiana law requiring abortion clinics to have admitting privileges adjudicated before the Supreme Court Wednesday has pro-life leaders noting an important moment in the history of abortion jurisprudence.
Under a cloudless blue sky and 60-degree temperatures, the atmosphere was palpably tense on the steps in front of the nation's highest court and demonstrators on both sides of the issue rallied. Abortion clinic escorts who were there to protest attempted to disrupt CP's interviews multiple times as protesters chanted in favor of abortion nearby.
Oral arguments in the June Medical Services v. Russo were heard inside the historic building; the law being contested in the matter was the Unsafe Abortion Protection Act, which was authored in 2014 by then-state representative Katrina Jackson, who is now a state senator and was present Wednesday to defend her law at the high court.
The case is of particular importance to longtime pro-life advocates in that this is the first abortion-related matter heard in years, and is especially significant because both of President Trump's appointees to the bench, Justices Neil Gorsuch and Brett Kavanaugh, will consider it. Supreme Court justices became a pressing campaign issue during the 2016 election cycle in large part because of the future of abortion jurisprudence as many hope for the eventual overturn of Roe v. Wade, the landmark ruling in 1973 that legalized abortion nationwide.
"Everyone is very interested to see how they rule," said Kristan Hawkins, president of Students for Life of America, in an interview with The Christian Post, stressing that the decision should be supported across the board because the issue is not contesting the legality of abortion but whether or not abortion facilities should be held to the same standards as other ambulatory surgical centers.
Jackson's legislation required that abortion clinics in the state have admitting privileges to local hospitals as is required of other medical outfits where surgeries are performed. The law was reportedly created in part because of horror stories that emerged in the state where patients were treated in filthy conditions and basic standards of medical care were not upheld.
"We know that it's all going to come down to the pro-life movement for the 2020 election, that we are very close to achieving our phase 1 goal of reversing Roe, sending the decision back to the states where we will then fight state by state to make abortion illegal as well as unthinkable. And we can't just fight to make it unthinkable. We also have to make it illegal because as far as abortion remains legal some people will think it's OK to do. It's a both/and type of situation," she added, commenting on the current political dynamics.
"Those who advocate for the violence of abortion are terrified that Roe is going to fall, that abortion will be made illegal in many states across the country and that's why they're amped up, why they're acting the way they act," she said.
The erratic antics are evidence that the tension is only going to increase, she maintained.
"Christians especially need to be prepared for this, that this is going to be something that as we get closer and closer to reversing Roe, those who advocate for abortion are going to become more incensed because they've bought into that lie that they need abortion in order to be free, that women need to have abortion to have autonomy in their lives, which we know is patently false. Abortion is always and has always been the opposite of empowerment and the opposite of feminism," Hawkins said.
Click here to read more.
SOURCE: Christian Post, Brandon Showalter