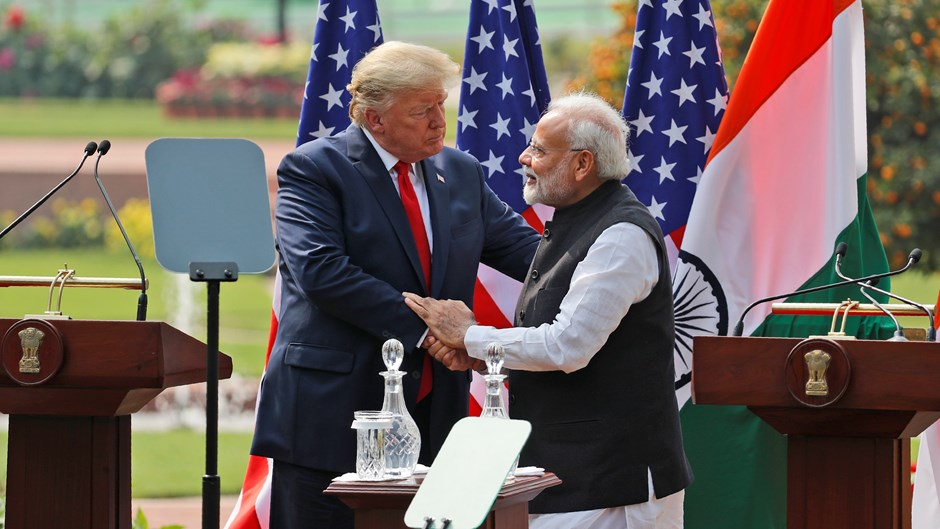 Vijayesh Lal is the general secretary of the Evangelical Fellowship of India, based in Delhi. The views expressed in this commentary are solely those of the author(s) and do not necessarily represent those of BCNN1.
---
Aside from some mispronunciations that sparked memes, President Donald Trump's visit to India this week went mostly as scripted. The entire trip was high on optics—a spectacle of bromance between him and Prime Minister Narendra Modi—but delivered little of substance apart from some modest deals on defense, energy, and telecommunications.
However, this was quickly displaced from the headlines by another happening in Delhi while the US president was still in India's capital.
On February 23, the first day of Trump's visit to the subcontinent, clashes broke out in Delhi after Kapil Mishra, a leader from Modi's ruling Bharatiya Janata Party (BJP), gave an ultimatum to the megacity's police, in the presence of a senior police officer, to clear anti-Citizenship Amendment Act (CAA) protesters from the Jaffrabad area of the capital within three days.
The CAA is a controversial act recently passed by the Modi government that links citizenship to religion in India and actively discriminates against Muslims. When combined with the proposed National Register of Citizens (NRC) and an updated National Population Register (NPR), it will likely have an adverse impact on many citizens of India but mainly Muslims, who are the nation's largest minority. Many could be deprived of citizenship. Social activists and commentators have called on the government to withdraw the legislation.
Hundreds of protests have erupted across the country, with some crowds reaching the hundreds of thousands. The Shaheen Bagh neighborhood in New Delhi is a symbolic epicenter of sorts of these protests, where mainly Muslim women have been leading demonstrations for three months. Jaffrabad, where Mishra gave the ultimatum to the Delhi police, was also a protest site.
Soon after the ultimatum, clashes broke out in Jaffrabad and spread to other areas of northeast Delhi. By the second day, according to commentators, it had transformed from a clash to full-scale anti-Muslim violence that so far has claimed 38 lives, mainly Muslims. It has also resulted in much destruction of property, both public and private, making it the worst violence against a community in Delhi since 1984 when Sikhs were targeted.
Hundreds were injured as the centrally administered Delhi police proved ineffective in controlling the violence for the first three days. Many videos circulating on social media appear to show the police, along with various right-wing radicals, complicit in targeting Muslims. It was only after the Delhi High Court intervened and questioned the government's lack of action that the situation seemed to improve. (The judge who passed the orders questioning the government was transferred within two days.)
By the second day of Trump's visit, when he arrived in Delhi, more than 13 people had already lost their lives. However, when the American president was briefing the media on his visit and was asked about the sectarian violence in Delhi and religious freedom in general, he surprisingly praised Modi. He said that the Indian prime minister was "incredible" on religious freedom and that Modi wants "the people to have religious freedom and very strongly." Trump did not comment on the clashes in Delhi; he said he'd heard about it but hadn't discussed it with Modi, and said that it was "up to India."
Prior to his visit, even though a US official indicated that Trump would be discussing religious freedom with Modi, expectations were rather low. Most, however, did not expect Trump to praise Modi on religious freedom—one of the shakiest parts of the prime minister's political record. After all, it was the United States that denied Modi, then the chief minister of Gujarat, a diplomatic A-2 visa and also had revoked his B-1/B-2 visa on the grounds of severe violations of religious freedom. Modi remains the only person ever banned from travel to the US under the International Religious Freedom Act (IRFA).
And Modi's record on religious freedom since becoming the leader of India has not been something to be proud of. His silence when minorities in India have been targeted and lynched by right-wing mobs has been telling. The worst sufferers of the wrath of extreme Hindu nationalists have been India's Muslims—the targets of cow vigilantes and much hate speech—but Christians have not been far behind. The fundamental freedoms promised by the constitution of India to religious minorities are being constantly eroded, and persecution is a daily reality for many Christians in India.
Click here to read more.
Source: Christianity Today