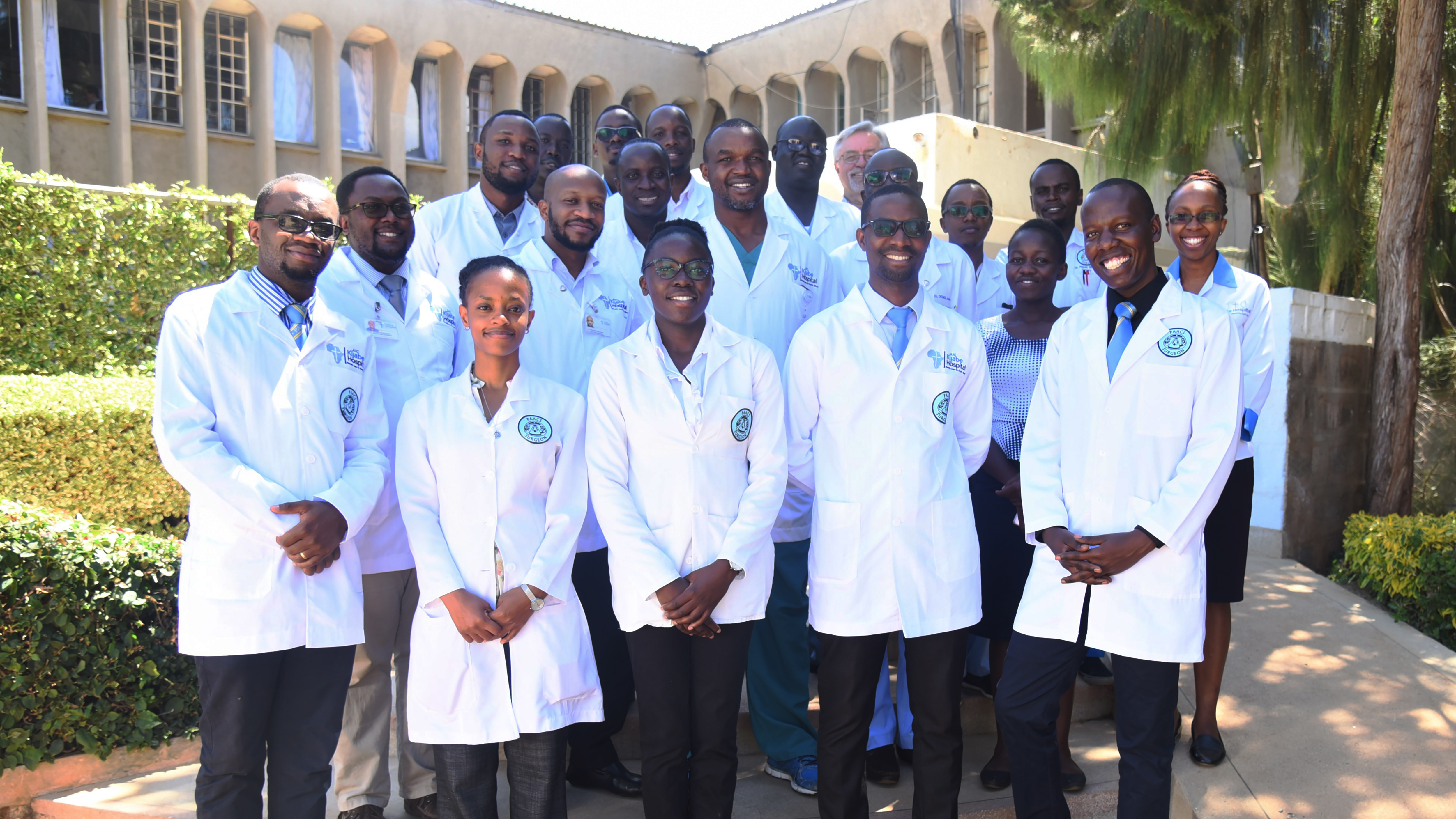 As the rainy season nears an end in Africa's Rift Valley, the boys harvesting avocados start falling out of trees. If a boy breaks a bone, he may go to Kibuye Hope, a rural mission hospital in the East African nation of Burundi. There, for the first time in the 73-year history of the hospital, he may receive care from a full-time, permanent missionary surgeon who is Burundian.
That surgeon, Alliance Niyukuri, joined the missionary staff of Kibuye Hope in 2018, moving his family to its residences after he completed his medical training in Gabon. He is one of the first 100 graduates from the Pan-African Academy of Christian Surgeons (PAACS).
"I'm hoping that my presence here can encourage other Burundians and allow me to be a role model to students coming to the mission hospital," Niyukuri said. "The Lord is [calling] more and more young graduates like me, calling us also to serve in the mission hospitals."
Niyukuri is part of a long-hoped-for cohort of African missionary doctors serving in their native regions. It is the result of a larger shift in medical missions strategies that many organizations started making a few decades ago to train and empower Africans to practice medicine. The organizations recognized the potential of the Christians in Africa and sought new ways to deal with the continued shortage of doctors.
"The vision in the late 1990s was audacious," said Mike Chupp, CEO of the Christian Medical & Dental Associations, a US professional group that sponsors overseas medical missions and partnered with Loma Linda University to start PAACS in 2003. "It was, by 2020, to graduate 100 general surgeons in Africa for Africa."
This is no small undertaking. It costs PAACS $25,000 per year for five years to train a surgeon, according to executive director Susan Koshy. But by November 2019, the academy had graduated 92 surgeons—on target to meet its goal.
Missionary and charity groups large and small have launched programs to support African missionary doctors. MedSend, which works with 55 agencies, has started a National Scholars Program to sponsor medical training. Africa Mission Healthcare Foundation is working on plans for a network of teaching hospitals. Still more groups are sending short-term medical missionaries to train health care workers.
The trend seems to be at an inflection point, with the investment in African physicians making a difference in a number of nations and within mission organizations. Today, medical missions are more about investing in African doctors than sponsoring procedures.
Physician shortage
There is a chronic, urgent shortage of physicians in most of sub-Saharan Africa. Recent numbers are hard to come by, but in 2013 in Nigeria, Africa's most populous country, there were fewer than 1,000 obstetricians to meet the needs of a population of 172 million people where the average woman has about five babies.
The worst physician shortage is probably in Malawi, a population of nearly 19 million, which had 284 physicians in 2016, according to the World Health Organization. The Democratic Republic of the Congo (DRC) has a population about the same size as Germany but only 1/50th the number of doctors.
The challenge is the "inverse care law," a term The Lancet medical journal used in 1971 to describe the rule that the needier the place, the worse the health care options. A corollary is that the more privatized medical care is, the worse its availability for the poor. Mission hospitals have long stood in the breach.
These doctors treat dangerous diseases and common illnesses, like influenza and diarrhea, that can be deadly. They see pregnant women and respond to lots of accident victims. In Madagascar, PAACS graduate Marco Bien Aime Faraniko works at a mission hospital in the capital city. The majority of cases he sees are motorcycle accidents.
G. Randall Bond, dean at the Frank Ogden School of Medicine at Hope Africa University in Bujumbura, Burundi, said that's not surprising. "The biggest killer in Africa for people who are not under five is trauma," he explained. "Falling from trees, traffic accidents, bikes, etc."
Having enough people to help can be a daily trial. Lazare Rukundwa Sebitereko, president of a Christian community university in rural DRC, says his community is badly in need of more and better medical care. There are only two doctors to serve the more than 70,000 people in Minembwe, in eastern DRC.
Click here to read more.
Source: Christianity Today