Can you imagine being released from the hospital after surgery and having nowhere to go to recover but a park bench?
That question is what led Glencliff United Methodist Church to envision a micro home village where homeless residents could recover. The congregation is dedicating a section of its grounds to construct a mix of 200-square-foot single homes and 400-square-foot homes for two people. Twelve of the planned 22 homes are currently under construction.
"A lot of our folks have open-heart surgery, hip replacement, chemo or radiation they're going through, and they're just told to go back to their camp or wherever it is that they stay. That's not a good place for healing," said the Rev. Ingrid McIntyre, executive director of the project and one of the pastors at Glencliff.
"This will provide community for people as well as safe space to heal."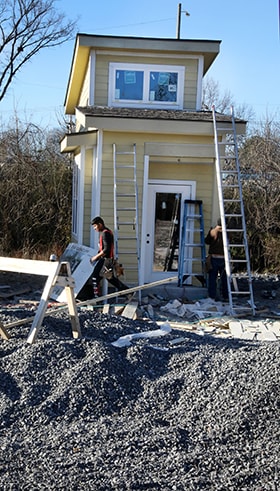 McIntyre said the vision is almost a decade in the making. A massive flood that struck Nashville in 2010 displaced many of the city's homeless from a large encampment on the banks of the Cumberland River known as Tent City.
"We thought, what can we do?" she said. "We need a place where people can come and have community. These folks were getting pushed out of theirs."
McIntyre, whose appointment is quarter-time to Glencliff and "the rest of the time to the streets," helped found Open Table Nashville, a nonprofit advocating for the homeless. In 2016, the church voted to partner with Open Table Nashville to house the micro home village.
Valerie Stringer, Glencliff's chair of trustees, said the congregation was almost unanimous in its support.
"It's a super concept. What wouldn't you like about helping someone who really needs it?" she said.
The project has had a few challenges, like an expensive water system upgrade to comply with city regulations.
One unexpected challenge was a lawsuit filed by members of the surrounding neighborhood concerned about the church's plans. The church won the initial suit but had to continue defending it through several appeals. Ultimately, the Tennessee Supreme Court dismissed the suit on the grounds that housing the homeless falls under a federal law that protects a church's mission as a religious organization.
"Every faith community I know of, Christian or not, takes care of people in need," McIntyre said. "That's part of our creed—any faith tradition's creed. It's in our Social Principles, it's in Luke."
Click here to read more.
Source: Church Leaders