The president of Zambia is continuing to resist the Trump administration's campaign to decriminalize homosexual sex acts worldwide, as U.S. Ambassador Daniel Foote threatened to pull aid to the African nation after two men received lengthy prison terms. President Edgar Lungu defended the sentence by declaring that homosexuality is "unbiblical and unChristian," and "we don't want it." Foote has now reportedly been recalled from the country as Lungu refuses to work with him, and a replacement is not expected anytime soon.
"We have complained officially to the American government, and we are waiting for their response because we don't want such people in our midst," Lungu advised on ZNBC-TV on Dec. 15. "We want him gone."
"You cannot ask a government to make a decision at gun point, [saying that] 'because we are giving you aid, we want you to do this.' You can't," Foreign Minister Joseph Malanji also remarked.
Foote, who was appointed in 2017 by the Trump administration, recently criticized the Zambian government after two men who were caught in the act of having sexual relations "against the order of nature" were sentenced to 15 years in prison.
Section 155 of the penal code in Zambia states that "[a]ny person who … has carnal knowledge of any person against the order of nature; or … permits a male person to have carnal knowledge of him or her against the order of nature is guilty of a felony and is liable to imprisonment for fourteen years" to life in prison.
"We know that there could be people who are homosexual in Zambia. But we don't want to promote it, because we frown upon it — the practice. Most of us say it's wrong. It's unbiblical, un-Christian and we don't want it," Lungu told Sky News on Dec. 2, adding that he felt the two men sentenced are "sick" and need help.
"Why should we be forced to do it … [W]e want to be seen to be smart, to be seen [as] civilized and advanced and so on," he continued. "If there are such countries which will allow bestiality, let them do it. But not here."
Lungu also remarked that the country would rather remain poor than have its financial aid being conditioned on such a matter.
"If that is the how you are going to bring your aid, I'm afraid that the West can leave us alone in our poverty and we will continue scrounging and struggling and see how we can get going," he stated.
View Lungu's remarks, in part, in the Sky News video report below.
Foote said that he was "horrified" at the severity of the sentence, and asserted that Zambians were not behaving in a Christlike manner because of the "venom and hate" that he received on social media following his remarks, which caused him to cancel a World AIDS Day event. He also expressed concern that Zambia was doing "untold damage to its international reputation by demonstrating that human rights in Zambia is not a universal guarantee."
"I thought, perhaps incorrectly, that Christianity meant trying to live like our Lord, Jesus Christ," Foote wrote in a statement. "I am not qualified to sermonize, but I cannot imagine Jesus would have used bestiality comparisons or referred to his fellow human beings as 'dogs', or 'worse than animals' — allusions made repeatedly by your countrymen and women about homosexuals."
He also expressed concern that "[d]iscriminatory and homophobic laws, under the false flags of Christianity and culture, continue to kill innocent Zambians, many of whom were born with the [AIDS] virus. Your citizens are terrified of being outed as HIV-positive, because of the inaccurate and archaic associations between HIV and homosexuality."
"My job as U.S. ambassador is to promote the interests, values, and ideals of the United States," Foote explained at one point. "Zambia is one of the largest per-capita recipients of U.S. assistance in the world, at $500 million each year. In these countries where we contribute resources, this includes partnering in areas of mutual interest, and holding the recipient government accountable for its responsibilities under this partnership."
Read his remarks in full here. 
According to Reuters, the Zambian government consequently sent a letter to U.S. officials, taking issue with his words and stating that the ambassador is "no longer tenable."
The U.S. subsequently decided to remove Foote from the country as Lungu does not want to work with him.
"Since Lungu says he does not want to work with Foote, there was no point of him remaining. Also don't forget that there are security issues so Washington wants their man back," an unnamed State Department representative told Reuters. "The U.S. cannot be paying a salary to someone who cannot work because the hosts don't want him."
The AFP also reports that the representative advised, "We do not expect a replacement soon." However, the U.S. desires "an open and frank relationship of mutual respect, commensurate with the generous aid provided to the Zambian people by the United States."
"The United States firmly opposes abuses against LGBTI persons. Governments have an obligation to ensure that all people can freely enjoy the universal human rights and fundamental freedoms to which they are entitled," they said.
THE CAMPAIGN TO DECRIMINALIZE HOMOSEXUALITY WORLDWIDE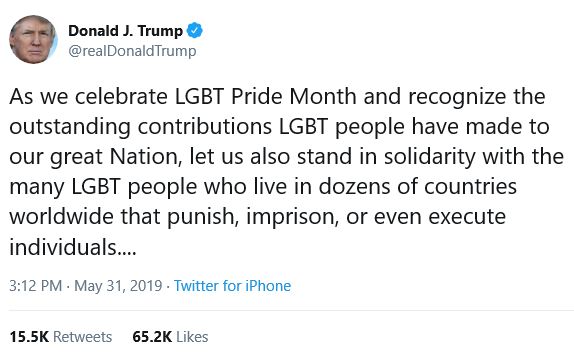 As previously reported, the Trump administration launched a global campaign to decriminalize homosexuality earlier this year, a move that Trump himself confirmed on social media in giving a nod to Pride Month.
"As we celebrate LGBT Pride Month and recognize the outstanding contributions LGBT people have made to our great nation, let us also stand in solidarity with the many LGBT people who live in dozens of countries worldwide that punish, imprison, or even execute individuals on the basis of their sexual orientation," he wrote.
"My administration has launched a global campaign to decriminalize homosexuality and invite all nations to join us in this effort!" Trump urged.
In February, NBC News reported that "[t]he U.S. embassy is flying in LGBT activists from across Europe for a strategy dinner to plan to push for decriminalization in places that still outlaw homosexuality — mostly concentrated in the Middle East, Africa and the Caribbean."
Click here to read more.
Source: Christian News