A pastor's wife and teacher from Burbank, Illinois, has been arrested and charged after she allegedly supplied alcohol to a 15-year-old student at Jordan Baptist School, a ministry of Jordan Baptist Church, and had sex with him at least five times before it was legal for her to do so.
Shannon Griffin, 49, wife of Pastor Thomas Griffin who led both Jordan Baptist Church and the affiliated school during the period of the crimes, is alleged to have sent nude images to the student she is alleged to have had sex with as well as a 16-year-old boy using Snapchat and asking for illicit images in return, the Chicago Tribune reported.
The pastor's wife, who some members in her community allege had been abusing underage kids for years, was allegedly pictured in some photos getting into the shower attached to text messages such as "Come on in" and "Missing you," Assistant State's Attorney Kyle Gruca told the publication.
The Christian Post reached out to the church for comment Thursday but did not immediately receive a response. Former members protested Sunday in the parking lot and turned away potential worshipers who were in the dark about the alleged crimes that had been taking place at the church.
Former church member Mike Mollo Jr. explained in a Facebook live broadcast during the protest at the church that he was the one who blew the whistle on the pastor's wife after he came across explicit videos of her earlier this year.
"I found out back in March and I pulled my kids out of the school immediately. We left the church. We were going to other churches trying to find one and this place man. It's demonic. I told the pastor first. I said 'What's going on? You gotta get in front of this.' I said 'there's people sending videos around here," Mollo said.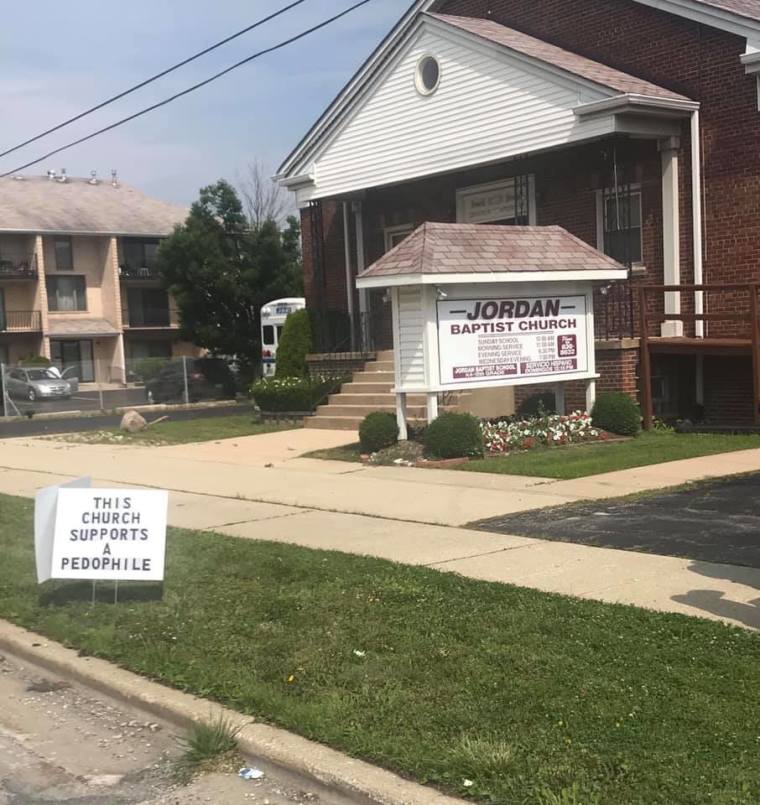 He explained that Pastor Griffin denied it was his wife in the alleged videos and "as soon as he said that I called the police."
"It's a cult … there's more people coming forward that was abused in this place, in the school and the church," he said. "I'm the last person that would talk bad about a Christian establishment or something like that but I got news for you — when this kind of stuff goes on, everyone should tell."
Court records cited by the Tribune said police began investigating the allegations against Shannon Griffin after the Burbank Police Department received an anonymous tip in early March.
Five of the alleged sexual encounters occurred when the victim was a student, beginning at age 15. A sixth encounter occurred after he graduated in 2016, Gruca explained at a hearing a week ago. The student is now 21.
A relationship developed between the student, who was an athlete, when Griffin, who was a cheerleading coach, began traveling on the school bus to sporting events. It further developed on Snapchat which they used to schedule their illegal encounters, the first of which happened in November 2013. Griffin allegedly gave the student one bottle of Maker's Mark (bourbon) after that encounter.
They had further encounters in December 2013, November 2014, November 2015, and December 2015.
After the sixth encounter, which occurred when he was 18, Griffin allegedly gave the student $120 worth of alcohol.
In the second case against Griffin, police alleged that she shared nude images with a 16-year-old student at Jordan Baptist in January 2018. The student, who is now 17, took six screenshots of images and messages that he allegedly got from Griffin on Snapchat.
Click here to read more.
Source: Christian Post