Though Tiananmen translates as "The Gate of Heavenly Peace," the Beijing city square is known for something utterly destructive: the June 4, 1989, massacre where Chinese troops fired on nonviolent student demonstrators, killing thousands—deaths that the government still has not publicly acknowledged.
The historic event came amid a national movement for democracy and freedom and set off a spiritual awakening for the Chinese, according to sociologist Yang Fenggang.
Among the young activists who stood in Tiananmen Square 30 years ago were Zhang Boli and Zhou Fengsuo. Both landed on China's most-wanted list, were imprisoned, fled the country, and live in exile. The pair are also among at least 4 of the 21 most-wanted student activists to come to faith in Christ, with Zhang serving as the pastor of Harvest Chinese Christian Church, a multisite church with locations around the world, and Zhou leading Humanitarian China, which advocates on behalf of political prisoners in his homeland.
"Of the Tiananmen Square student leaders who have converted to Christianity, they tend to see evangelism as the priority," said Yang, director of the Center on Religion and Chinese Society at Purdue University. "A priority of their social activism is humanitarian aid to people in China or exiled in the US, including political dissidents, human rights lawyers, and Christian leaders who have been persecuted for their leadership in the house churches."
Zhang and Zhou's historic involvement gives them a unique perspective on the Communist government's crackdown on China's growing house church movement, whose leaders were inspired by the Tiananmen activism decades ago.
"We may forget that there was this Tiananmen moment of hope, but for the future of China, it's so important to remember," Zhou said. "Commemorating is a way of resistance."
This month's 30th anniversary of the massacre offers the global church a chance to consider the spiritual significance of the ongoing fight for basic freedoms and human rights.
"With theological reflections, we can strive to be better prepared for future social activism and social transformation," Yang said. "Without theological depth, social and political movements will only bring more chaos, violence, and bloodshed."
Yang—who projects the country will be home to more Christians than any other by 2030—wants to see evangelicals partner more closely with the house churches operating outside of China's government-sanctioned Three-Self Patriotic Movement.
Zhang and Zhou (the former responding through a translator) talked to Jenny McGill about how their Christian faith spurs their fight for freedom. This interview has been edited for length and clarity.
Take us back to Tiananmen Square. What happened in your life that led you to participate, and what did you hope the outcome would be?
ZHANG: I was a writer and wanted to go to Tiananmen Square to record the events and turn it into a book. I was also a student at Peking University and joined the other students who were going. I was a speaker at the square and led others in a hunger strike.
We wanted to commemorate [former general secretary of the Communist Party] Hu Yaobang's death. The government thought we were being unruly, and we disagreed with this depiction. We wanted democracy, freedom, and human rights respected.
ZHOU: It was a gradual process. I started as a participant and went with my friends in the same dormitory. We were the first ones to openly commemorate Hu Yaobang, the party leader who lost his post for being sympathetic with students a few years before. When he died, that triggered the whole event, the protests.
China was much more open at that time. [The Chinese] were looking out to the Western world for ideas, new technology, people, everything. There were broad discussions in public. I really loved to read the history of America. I was inspired when I was learning English and reading the Declaration of Independence and the story of Abraham Lincoln. In that generation, we were very much in love with the idea of freedom and democracy for China. Our two most immediate demands were freedom of the press and the disclosure of the assets of the government officials. … These were very popular, gaining support of the Chinese people very quickly. That's why it spread out like fire into the whole society all over China.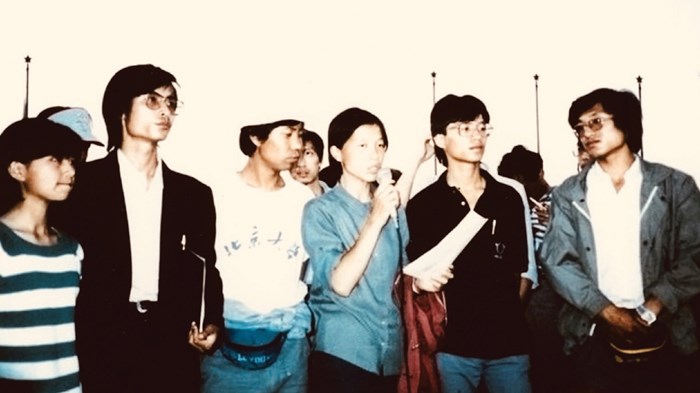 Image: Courtesy of Zhang Boli
What happened to you after the protest?
ZHANG: Of those participating in Tiananmen, they began to arrest so many, so I fled to the Soviet Union. The KGB soon arrested me because I had entered the country illegally. I was in prison for two months before they returned me to China. I was able to escape at the border of China and the Soviet Union. I hid from the Chinese government for two years, staying in Heilongjiang in the northeast of China and later traveling south.
In 1991, I was smuggled onto a boat to Hong Kong, went to the US Embassy, and applied for asylum, which was granted that day. [Other dissidents escaped from China through Operation Yellowbird, deftly organized by a group of Hong Kong sympathizers. One of those sympathizers was pastor Chu Yiu-ming, among those arrested and convicted for their part in the Hong Kong Occupy Central and Umbrella Movement of 2014.]
ZHOU: Because I was a member of the leading student organization at Tsinghua University, I was No. 5 on China's most-wanted list of 21 student leaders. It was very shocking to everyone, including me, to become a leader of the movement. To me, the movement was mostly spontaneous, an outcry from people's hearts.
I was arrested ten days after the massacre. Let me correct the record here. My sister and brother-in-law never intended to turn me in—they were trying to help me. The government changed the story [to say] they had turned me in. I was detained for the year without trial in the top security prison in China, Qincheng, famous for holding government officials.
I was released at the one-year anniversary of Tiananmen along with a lot of people, mostly because of pressure from the US. At the time, every June, Congress had to approve China's "most-favored nation" status. I was sent to a re-education program to change my thinking in one of the poorest rural places [Yangyuan, Hebei province]. The condition was if I went through the three-year program, I would be able to resume my studies. I rejected that after a year. I never completed my bachelor's degree. My school was trying to help me and gave me an associate's degree. Being banned from leaving China for a couple of years, I came to the US in 1995.
Click here to read more.
Source: Christianity Today