Editor's Note: Last year, John Allen Chau's fatal mission to India's North Sentinel Island, home to the world's most isolated tribe, spurred new conversations about Christians making first contact with indigenous people. A majority of uncontacted and remote tribes remain in the Amazon jungles of Brazil, where for decades missionaries such as Braulia Ribeiro have stepped out to meet them and live among them—hoping to help improve their conditions while supporting their autonomy against the growing threat of government interventions. Here, she shares about her first mission to a remote tribe.
In the Paumarí tribe, in the Amazon region of Brazil, most of the Paumarí people hated to be Paumarí.
They thought the best thing on earth was to become a "Jará," the term for all those who had the fortune of not having been born in that tiny indigenous tribe, not having been brought up in their "primitive" language.
The name Jará designated any non-Paumarí person, any outsider. For the Paumarí, the majority of the Jará they saw were Brazilians who lived along the river. The Jará image was especially personified by the Brazilians who lived in the micro-village a day and a half away from the Paumarí lake or the drunk merchants who sold them overpriced merchandise.
Most Brazilian river dwellers, themselves subsistence agriculturalists, were just as isolated and as impoverished as the Paumarí. They had no access to school, health care, or way of living for themselves or their offspring. Yet all the Jará the Paumarí knew had one thing in common: They considered themselves superior to the Indians, whom they saw as people of strange costumes who could not even speak an understandable language.
The name the Paumarí call themselves originally indicated the beauty and the perfection the group saw in themselves, and Jará used to be a derogatory word, a synonym for "non-Paumarí" that essentially came to mean "non-human." After many decades of contact with other Brazilians, the meanings were inverted. To be called Jará became praise. The once-beautiful Paumarí started to see themselves as incapable and dirty, in the same way the outsiders did.
In 1983, I was part of a team of Brazilian young people going to plant a mission station among the Paumarí. There were four of us: José and Frances, a young couple born and raised in the Amazon, experienced in canoes and fishing; Eustáquio, a 20-something tall black guy with an afro; and me, just 19 years old. Both Eustáquio and I were from the same big city in the urban south, newcomers to the immense mystery of the Amazon.
It was our very first missionary expedition. I was chosen to be a part of this trip to help the team start learning the Paumarí language. I had gone through some training with the Summer Institute of Linguistics (SIL), where this tribe's language had been analyzed by two female translators who spent more than 20 years in another very remote Paumarí village upriver.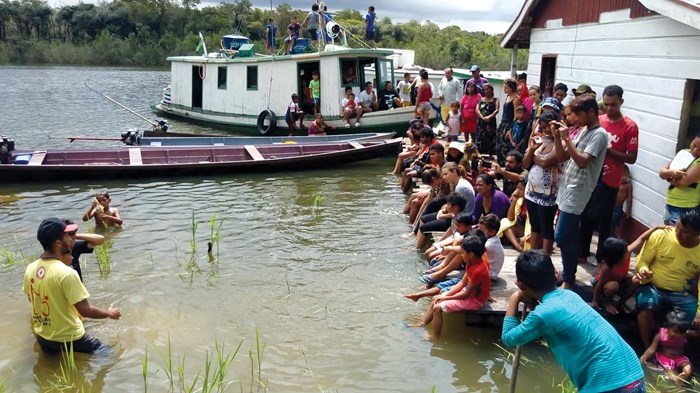 From the city of Manaus in northwestern Brazil, we traveled for five days on a small transport-line boat to reach the last post, Lábrea, a little town situated in the middle of the jungle. From Lábrea to a small river where the Paumarí were, there were no transport boats available. We would have to hire a private boat to take us there. The trip was estimated to take up to another week by boat, plus one more day paddling a small canoe to reach Maniçoã Lake where the floating Paumarí village was. We would be the first missionaries to reach this particular village.
The only money our little team had left was a few hundred dollars we put aside to buy supplies and food to stay in the jungle for three months. It was not much. We would be able to buy some kerosene for lamps, batteries for flashlights, and some rice and beans—the Brazilian staple—to make sure we would not starve.
"What do we do, Lord? Should we just stay here waiting?" As good new-convert Pentecostals, we asked God for direction. I felt that I had received a verse from the Scriptures as an answer from God. When I looked the verse up, it said, "he went away and sold everything he had" (Matt. 13:46). What could that possibly mean? We all asked ourselves. I felt, however, a cold tinge in my spine. Is God saying that we have to use all our money to pay for the boat ride?
And that was exactly how things went.
We waited a few days before we commissioned the owner of the smallest boat we could find, a wooden boat with no walls, no bathroom, no kitchen—just a four-horsepower diesel engine. The price he charged to take us to that distant village and back to Lábrea amounted to the exact figure we'd saved.
Click here to read more.
Source: Christianity Today