At least 700 refugees from a persecuted Islamic sect are in hiding after fleeing their homes in the Sri Lankan port city of Negombo as communal tensions soar in the aftermath of the deadly Easter Sunday bombings.
The bombings, which killed around 253 people – the death toll was revised down on Thursday by the health ministry – shattered the relative calm that has existed in Buddhist-majority Sri Lanka since a civil war against mostly Hindu, ethnic Tamil separatists ended 10 years ago, and have raised fears of a return to sectarian violence.
A group of around 500 Muslims are being sheltered in one city, which the Guardian is not naming. There was a significant police presence outside their location and dozens of locals were protesting, calling for the group to be removed from the area.
"These people must be pulled out from this place," said a local provincial council member. "We don't want them." Signs in English and Sinhala posted outside said: "We don't need Pakistan refugees."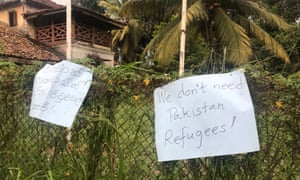 Police said the refugees would be required to stay another few days before they could be safely moved on. The group belong to the Ahmadi community, a minority sect of Islam who are persecuted in Pakistan and legally banned from enter the religion's holy cities of Mecca and Medina.
"We've seen a few attacks on houses, some refugees were beaten and some stones were thrown as well so people were scared to stay in their houses," said Ruki Fernando, a Sri Lankan activist.
"The people in Pakistan attacked us and say we're not Muslims," Tariq Ahmed, a 58-year-old Ahmadi who fled his home, told the Associated Press. "Then in Sri Lanka, people attack us because they say we are Muslims."
The Ahmadi themselves have fled decades of persecution in Pakistan and elsewhere. Ahmadis believe another Islamic prophet, Ahmad, appeared in the 19th century, a view at odds with the fundamental Islamic principle that Muhammad was the final messenger sent by God.
Pakistan changed its constitution in 1974 to declare Ahmadis non-Muslims. Ten years later, the government declared it a criminal offence for Ahmadis to "pose as Muslims."
"We are not their enemies. We are facing the same situation these people are facing," said Qazi Moin Ahmed, 21. "We are not terrorists, but they consider us terrorists."
Click here to read more.
Source: The Guardian