Rev. Anthony Trufant, Senior Pastor of the historic Emmanuel Baptist Church (EBC) in Brooklyn, NY, is a revolutionary.
That's his reputation. For years, other pastors have looked to this ecumenical leader to help them organize their churches in ways palatable to the communities around them. In his Rethink & Retool conferences, workers in the faith-based sector are pushed to the limit, with hopes they can work outside of the box. One cannot push another, without first pushing himself.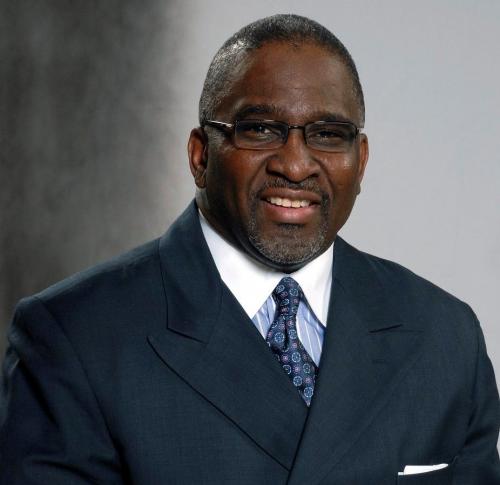 Trufant did just that by allowing the church to host the "Business of Cannabis"  conference in Clinton Hills, on Saturday, February 23rd with leading marijuana advocacy group, Women Grow. This five hour intensive featured the whose who in the Black and Brown cannabis industry. From "seed-to-sale" representatives were available to educate and network with the community during this free event.
After noting that he received push back from some of his members, Trufant implied that his involvement as a social justice pastor was to make sure the ministry of cannabis was addressed. He said that cannabis as an industry is important – and connected to his faith – as a practice of compassion. Noting how the plant in all forms when used medicinally serves as an inexpensive pain reliever to the sick for some of the most physically debilitating and tortuous diseases. He also noted the economics of the emerging industry and the potential for it to create new jobs in the community. Lastly, he noted the politics of this game, who will be left out and who will be invited to the table.
He was not the only one that mentioned politics. New York State Attorney General, the first Black woman to hold this seat, Letitia James, spoke passionately about this historical moment. Between celebrating Trufant for his history of social justice from the pulpit (he is her pastor and this is her church), she talked about how critical it is for Black and Brown people to be at the table and how their voices have to be heard so that equity in this industry can be equally spread.
Congressman Hakeem Jefferies also dropped by to speak to the people. Despite being the fifth highest ranking democrat on the hill, he invoked the lyrics of Brooklyn born Biggie Smalls when talking about not only his dedication to his borough, but how "all-the-way-real" he has kept it in Washington as he fights for the concerns of the people he serves. The issue of cannabis is one of those concerns.
Closing out the event were Councilwoman Laurie Cumbo, Senator Velmanette and Brooklyn District Attorney Eric Gonzalez.
The following breakdown summarizes the day:
Sessions:
Acquiring Cultivation or Dispensary License| Conversations on how to prepare, apply and/or acquire a license to grow featured Dr. Chanda Macias (Dispensary & Grower), Roz McCarthy (M4MM), Christine De La Rosa (Dispensary), John Gilstrap (Hemp Growers), Amy Holdener (Citiva, Dispensary) and Jesce Horton (Cultivation).
Ancillary Businesses, Careers in Cannabis| Conversations on starting a business or getting a job in the cannabis industry featured Rani Soto (CannaGather), Dasheeda Dawson (MJM Stratefy, The Weed Head), Jacobi Holland (On The Revel), and Patricia Patton (CannaBoomber).
Integrative Cannabinoid Medicine by The Knox Family| An exploration of medical marijuana with Drs. Janice, Jessica and Rachel Knox.
Medical Benefits of Cannabis and Hemp| Medical professionals talk about the benefits of using cannabis and hemp as medicine featured Gia Morón (Women Grow), Dr. Anthony Forestine, M.D., Kebra Bolden, Nurse, Dr. Oludare Odumosu, PhD and Dr. Kisha Vanterpool, M.D.
The Need for Equity Programs| Conversations on how equity programs can help the Black community enter into the cannabis industry featured Shanita Penny (MCBA), Jeannette Horton (NuLeaf), Christine De La Rosa (The People's Dispensary), Leo Bridgewater (CannaGather) and Roz McCarthy (M4MM).
Cannabis 101| Learning the basics of cannabis such as terminologies and their uses as taught by Sirita Wright (Estrohaze), Jake Plowden (CCA), Mary Pryor (Cannaclusive) and Jacobi Holland (On The Revel).
Social Justice & Policy Reform| Exploring steps after cannabis is legal and how can social justice and policy reform protect the Black community featuring Dasheeda Dawson (MJM Stratefy, The Weed Head), Jesce Horton (Cultivation), Leo Bridgewater (CannaGather), Cristina Buccola (Attorney), and Jason Starr (Asst. Counsel to Governor).
Destigmatizing Cannabis| Debunking the stigma and images of the plant and its consumer featuring Kebra Bolden, Dr. Oludare Odumosu, PhD, Dr. Janice Knox, M.D., and Saki Fenderson.
Parenting & Cannabis: Learning Together| Conversations on having responsible discussions with your family about cannabis with Imani Dawson (MJM), Rani Soto (CannaGather), Tracey Henry (Women Grow) and Dr. Jessica Knox, M.D.
Healing with Hemp, CBD, and Cannabis/Topicals, vapes, edibles & more with Jacob Plowden (CCA), Dr. Chanda Macias (Women Grow), Dr. Rachel Knox, M.D. and Dr. Anthony Forestine, M.D.
Types of Businesses in Cannabis: From Real Estate to CBD Shops| How to make money in the emerging industry featuring Cristina Buccola, Roz McCarthy (M4MM), Justin Ivey (Medically Jointed), Jeannette Horton (NuLeaf) and Jon Gilstrap (Hudson Hemp).
Networks & Industry Conferences in Cannabis| Industry leaders share why networks are important featuring Tanya Osborne (Women Grow), Rani Soto (CannaGather), Jacobi Holland (On The Revel), Mary Pryor (Cannaclusive) and Shanita Penny (MCBA).
While most people think that the new cannabis rush will only be for persons interested in selling the plant, the conferences opened up people's eyes about the many ways Black people can benefit from the industry.
Click here for more.
SOURCE: The Source – ND Smith