The Nigerian migrants who recorded a video in a Libyan prison – which subsequently went viral – crying for the intervention of the Nigerian government and prominent clergymen, have arrived safely back in Nigeria.
The group were among the 180 who arrived back to Nigeria from Libya on Thursday 30th August 2018.
On Sunday 2nd September 2018, seven of the migrants were present in The Synagogue, Church Of All Nations (SCOAN) in Lagos where they shared their horrifying experiences in Libya.
According to Frank Isaiah – who featured prominently in the clip – when the Libyan authorities discovered the video had been leaked to the public, they punished him as the ringleader in the most barbaric of manners.
"I was hung with chains overnight and left to die as a punishment," he narrated to a sombre congregation.
The following day, his captors took his lifeless body to a forest and dug a shallow grave. As they were about to throw him inside, they discovered his heart was still beating and decided to return him to solitary confinement.
He describes his eventual return to Nigeria, through the intervention of the International Organisation for Migration (IOM) as "nothing short of miraculous".
Efemena Amu Steven from Delta State, who recorded the clip via a phone that was smuggled into the cell by a Senegalese man, described his time in Libya "like a horror film".
The Osama Prison where they were incarcerated in Zawiya, Libya was engaged in the "business" of human trafficking, according to Steven. "If not for the video clip, we would never have gotten out," he surmised.
In the clip, the Nigerians who cover their faces, plead for Nigerian President, Muhammadu Buhari, to help them, also begging for Enoch Adeboye, David Oyedepo and T.B. Joshua to come to their aid.
Esosa Odigie and Iboye Ufoma equally shared their traumatic experience. Both boarded a makeshift rubber dinghy, locally known as 'lapa-lapa', alongside 120 others in an attempt to reach Europe via the Mediterranean Sea.
After three days and nights at sea, their boat collapsed in the middle and subsequently capsized, sending 118 people to their watery graves.
Esosa and Iboye, who clung desperately onto a rope, were among the four survivors who were rescued the following day by a Chinese fishing vessel and swiftly returned to Libya where they were both imprisoned.
Ada Johnson, who carried a ten-day old baby to the church, tearfully recounted how she delivered her baby in a Libyan prison cell shortly before being deported.
"I don't know whether the father of my baby is dead or alive and have no contact for him or his family," she explained, adding that a Nigerian man impregnated her before they were both imprisoned and he managed to escape.
Prophet T.B. Joshua gave the group of migrants N1m, adding to the N2.4m he gave to the group of 80 who visited The SCOAN on Friday, 31st August, 2018.
"The beauty of life does not depend on how happy you are but on how happy others can be because of you," Joshua said in a post to Facebook which recounted the support he rendered to the migrants.
WATCH HERE – https://www.facebook.com/tbjministries/videos/2145519555769182/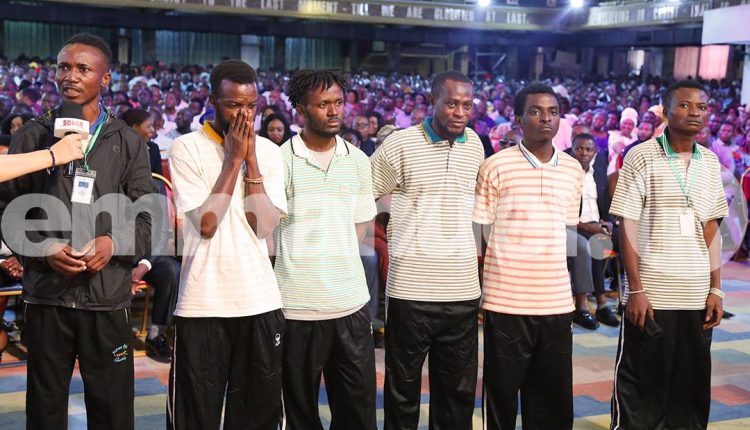 Ihechukwu Njoku is a freelance Nigerian journalist…