In the lives of married millennials, having kids changes everything, according to Lasting, a marriage health app that so far has over 125,000 respondents to its marital health survey. Couples without children tend to report being more satisfied with their marriages than couples with children. In response to statements like "My partner is a great listener," only 30 percent of people with kids agreed, while 45 percent of people without kids agreed.
The company's dataset may be the largest marriage survey sample size ever gathered. Most users are between the ages of 20 and 35 or in their first 15 years of marriage (80 percent of users were married after 2010). Regardless of their parenthood status, men and women overall reported significant differences: Nearly 67 percent of women disagreed with the statement "My partner is a good listener" while only 51 percent of men disagreed.
The data gathered, while interesting on its own, contributes to the app's function as a marriage counseling product. When users first log in, Lasting walks them through a 27-question marriage assessment survey. Based on the results, the app identifies a couple's weaknesses and then gives tailored recommendations derived from decades of scientific studies on marital health. There are 18 topics total (called "series") broken up into smaller sessions. Each session begins with a podcast or TED Talk–style lesson, and each series is filled with exercises to practice what you learned.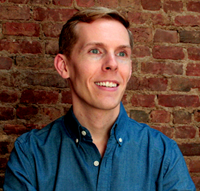 While its users aren't all Christians, the app creator Steven Dziedzic wants his content to pass the "gospel test" as well as the "science test." Dziedzic—whose first start-up was acquired by The Knot and The Bump—was previously in charge of The Knot's mobile app. "I was working 60 hours a week helping 80 percent of the engaged couples in the country plan their wedding," he said, "which means I was spending 60 hours a week helping couples find DJs and bands and florals, but I wasn't doing a single thing for their relationship."
"I was just starting to see that, in the consumer ethos of millennials and Gen Xers, marriage isn't what it used to be. I heard phrases like, 'Is she going to make me happy?' I felt like we needed to come out with an app that communicated what marriage stands for and what it truly is."
For Dziedzic, the most surprising data result is how marriage changes once you have kids. (That concern is now personal to him since he's expecting his first child this month.) "Parents have a very rocky time," Dziedzic said.
Eventually, the app will offer a module created specifically to encourage parents. Dziedzic also hopes the app reaches people who might not go to counselors, either because of the discomfort of sharing with a therapist or the cost of paying for one. "I'm not negating the power of therapy," he said. "We just want to make a simpler way for you to achieve the same ends."
CT spoke recently with Dziedzic to learn more about his personal faith, his vision for Lasting, and the lessons he's learned from the app.
How does your faith inform your work?
There's an organization called Praxis Labs that specifically chooses faith-based founders. It's their belief that companies influence our culture—especially ideas inside of corporate structures that spread quickly and capture consumers. Think of Instagram, Snapchat.
I went through their program this year, and it helped me think really critically about how faith plays into Lasting. Praxis likes to say that a lot of companies start with "What's a good business idea?" and then they'll create a company, and once the company has success, they'll say, "Oh, how can we be more ethical? How can we involve our faith more in this thing that already exists?" Praxis starts with the question "How does God want the world to be? How did God design this world? How can we join with God in a company?"
In my case, I'm asking: "What does God want marriage to be? How can a product actually drive people more into that reality?" That's how I try to embed my faith into this company every single day.
Is the app reaching Christians?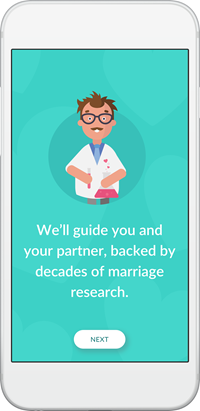 I've wanted to share the app with the church because I'm a Christian, but I designed it for all marriages. Surprisingly, it's been harder to get Christians to download it than non-Christians. I don't know that for a fact, because we don't capture religious data in the app, but here's an anecdote: We have a few Instagram ads. There were a flurry of comments to the effect of, "Oh, my gosh, a marriage app. Why don't you just read the Bible?" or "Oh, my gosh, why don't you just get Tim Keller's book, The Meaning of Marriage?" No one can hear me, but I'm screaming, "If you only knew what I want to help you with. This is just as much for you as it is for anyone else. I love Tim Keller's book, and I love the Bible, but I also love this app."
For a lot of Christians, they can't separate—and they shouldn't separate—their faith from their marriage. It's a foundational component, and I love that. But for some Christians, if something isn't approved by the church—I'm using church in the capital C sense—they're really hesitant to engage it. In some ways, all we really need to reach the Christian audience is for respected Christian authorities to give it a nod of approval.
Psychology can sometimes be a tension point in the church.
Yes, for some, there's a hesitancy to accept science. I just want to tell people that if God created the world, then of course, science will point back to him. It's just the way intelligent design works. That's the beauty of this app. Literally, so much of this scientific research points directly to Scripture. It's amazing the way it works.
Click here to read more.
Source: Christian Today