Defending World Cup champions have been finding it hard to get out of the group stage lately, and Germany is proving no exception.
The 2014 champions, ranked No. 1 in the world, were exposed defensively and surprisingly beaten by Mexico 1-0 on Sunday, putting its hopes of advancement in doubt.
Well, not everyone is in doubt.
"We will make it," Germany coach Joachim Loew said. "There's no reason to fall apart because you lose one game."
Hirving Lozano scored the lone goal in the 35th minute, picking up Javier Hernandez's pass inside the penalty area and beating Mesut Ozil before shooting past Germany goalkeeper Manuel Neuer from 10 yards.
The goal decided the match — a match Germany didn't expect to lose.
"I don't know if it's the biggest victory in (Mexico's) history, but one of the biggest for sure," Lozano said. "My teammates and I did some great work. We all ran our hearts out. This is the result of all that hard work."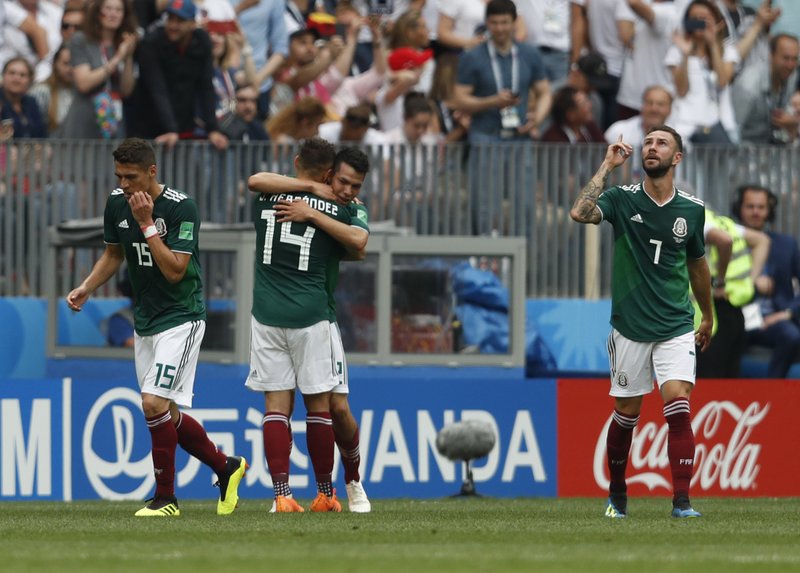 Three of the previous four defending World Cup champions failed to reach the knockout stages, France, Italy and Spain. Two of them lost their opening matches while the Italians had to settle for a draw.
The Germans are bidding to become the first team to retain the World Cup title since Brazil in 1962, but have now won only one of their last seven games in all competitions. They hadn't lost an opening game since the then-West Germany fell 2-1 to Algeria in 1982.
Mexico had never beaten Germany in a competitive match but was transformed from the team which lost to the Germans 4-1 in last year's Confederations Cup, conceding twice in the opening eight minutes.
Lozano, a 22-year-old forward nicknamed "Chucky," got Mexico going with a deflected shot over the bar in the first minute. That set the tone for Mexico to torment Germany on the counterattack, with Lozano taking full advantage of right back Joshua Kimmich's tendency to go forward.
"We were nervous and we weren't playing the game we wanted to play," Loew said. "We need to see what caused this."
After Lozano's goal, Mexico goalkeeper Guillermo Ochoa pulled off a spectacular save to keep the score even, palming Toni Kroos' shot onto the crossbar.
With key players tiring in the second half, Mexico pulled back and substituted both Lozano and Carlos Vela. Germany then dominated but when it broke through the Mexican defense, the shooting was poor.
Seeking defensive reinforcement, Mexico coach Juan Carlos Osorio brought on 39-year-old veteran Rafael Marquez to play in his fifth World Cup.
"You had the feeling that the ball just wouldn't go in anyhow," Loew said. "Everyone's very disappointed."
KEYS TO SUCCESS
Kimmich's charging runs far up the field can be a blessing and a curse for Germany.
Lozano reveled in the space left for him on Mexico's left flank and was a constant threat on the counterattack. Kimmich's absence meant Ozil was left trying to stop Lozano for Mexico's opening goal.
Germany registered 25 shots to Mexico's 12, but many were from long range and failed to seriously test Ochoa.
WHY CHUCKY?
Lozano's nickname comes from the haunted doll Chucky in the "Child's Play" franchise of horror movies.
He doesn't share the doll's red hair, but got the name as a young player at Mexican club Pachuca when he played pranks by hiding under teammates' beds.
DISCIPLINARY
Mexico could be facing punishment from FIFA after its fans chanted an anti-gay slur.
Fans in Mexico use the chant to insult opposing goalkeepers as they take a goal kick. Widely considered a slur, some argue there is no discriminatory intent.
GROUP DYNAMICS
Mexico still has to play South Korea and Sweden, which Osorio called "a tough nut to crack."
Germany needs points from matches against Sweden on Saturday and South Korea on June 27 to avoid elimination.
Neuer, who started his first competitive game since September, said Germany is aware that another loss would end its World Cup run.
"We're already in the knockout stages," Neuer said, "because we only have finals now."
___
More AP World Cup coverage: www.apnews.com/tag/WorldCup
Source: Associated Press