Thousands of Arizona teachers wearing red shirts and carrying signs protested outside more than a thousand schools Wednesday, demanding higher salaries and better school funding.
The "walk-ins" were held before classes and were organized by a grassroots movement pushing for a 20 percent raise and more than $1 billion in new education funding. Arizona's demonstration is part of a wave of educators in Republican-majority states demanding higher pay. West Virginia teachers were the first to go on strike and won a 5 percent raise. Oklahoma's two largest school districts have been closed for nearly two weeks because of a teacher strike and Kentucky educators called in sick to protest pension reform.
On Monday, the grassroots group Arizona Educators United told their 35,000 Facebook members to prepare for a possible walk-out this week that would close schools.
The Arizona protests came a day after Republican Gov. Doug Ducey defended his school funding plan, which includes a 1 percent teacher raise, and called talk of a teacher strike a partisan ploy. Ducey, who is facing re-election, has been touting his promise of $100 million in funding for districts this year as a start to restoring nearly $400 million in cuts.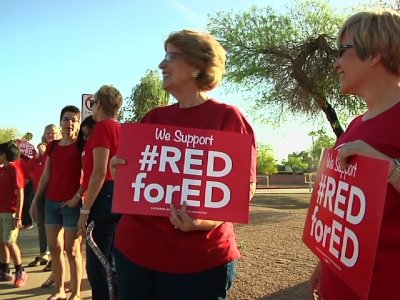 "What I've heard from teachers is that they don't want to walk out — they want to solve this problem," he said on KTAR radio. "And I'll tell you the people that are playing politics, they want to walk out."
Arizona Educators United has mobilized teachers and supporters across the state through their #RedforEd campaign. In addition to a 20 percent pay bump, they're seeking increased pay for support professionals, a permanent raise structure, and a freeze on corporate tax cuts until per-pupil spending reaches the national average.
At a high school in the Phoenix suburb of Glendale, science teacher Lindsay Walls was among about 50 teachers who started their day early to demonstrate. She said her district pays well, but it has come at the cost of school facilities and support staff pay and was critical of Ducey's stance.
"If he's under the impression that there is funding coming to our schools, than he should come visit us at Apollo High School, he should come to one of our football games and go ahead and join us in the bathroom sometime and see what our facilities look like," she said.
Wednesday's walk-ins were held at 1,112 schools spanning 130 districts, according to Arizona Educators United. The state Department of Education says that Arizona has 1,700 traditional public schools and more than 500 charter schools.
Stephanie Perry, a 36-year-old single mother of two and a special education teacher at Tuscano Elementary School in Phoenix, said she makes $36,000 annually and lives with her parents.
"I'm not the only one here struggling at this school," she told fellow teachers during the protest outside the school.
Arizona teachers are among the lowest paid in the nation. According to the federal Bureau of Labor Statistics, Arizona elementary teachers earned a median wage of $43,280 in 2017 and high school teachers $46,470, the 3rd and 6th lowest in the nation, respectively. Adjusted for local cost of living, federal figures show elementary teachers actually rank 49th in earnings and high school teachers 48th.
Kailey Berry, a third-grade teacher at Tuscano, is in her first year of teaching in Arizona after moving from the Midwest. She said she sees a direct link between teachers taking new jobs elsewhere and the low pay.
"If we don't start raising our bar a little bit and narrowing that gap between other states, we might not be able to keep teachers like me who are from out of state," Berry said.
After about 10 minutes of speeches in English and Spanish, the teachers linked arms and marched into the school chanting: "Red for Ed."
So far, Ducey and the Republican-controlled legislature haven't budged to the group's demands.
___
AP reporter Paul Davenport contributed from Phoenix and Bob Christie from Glendale. Arizona.
Source: Associated Press