Investigators pursuing a suspected serial bomber in the Texas capital shifted their attention Tuesday to a FedEx shipping center near San Antonio where a package exploded on a conveyor belt in the middle of the night and caused minor injuries to a worker.
Although the latest blast did not inflict serious harm, it added to the widening fear of more explosions like four previous ones that have already killed two people and badly wounded four others.
Hours after the latest blast, police sent a bomb squad to a FedEx facility outside the Austin airport to check on a suspicious package that was reported shortly before sunrise. Federal agencies and the Austin Police Department subsequently released a statement saying that package had indeed contained an explosive that was successfully intercepted by authorities. They added that both the intercepted package and the one that exploded were believed linked to the previous Austin bombings.
Meanwhile, authorities also closed off an Austin-area FedEx store where they believe the bomb that exploded was shipped to the distribution center. They roped off a large area around the shopping center in the enclave of Sunset Valley and were collecting evidence, including surveillance camera footage.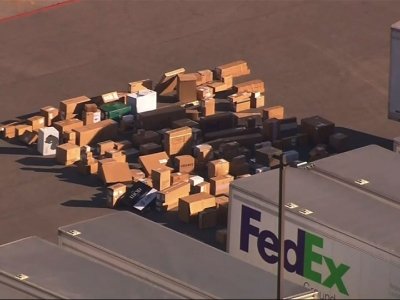 The fifth and latest explosion happened around 1 a.m. at a FedEx facility in Schertz, which is just northeast of San Antonio and about 60 miles (95 kilometers) southwest of Austin.
"It would be silly for us not to admit that we suspect it's related" to the other four Austin bombings since March 2, FBI agent Michelle Lee said. She did not have details about the size or weight, or a description of the package.
One worker reported ringing in her ears. She was treated at the scene.
U.S. Rep. Michael McCaul, a Republican from Austin who is chairman of the House Homeland Security Committee, said that investigators have obtained surveillance videos that "could possibly" show a suspect, but are still poring through video.
"I hope his biggest mistake was going through FedEx," McCaul, who has spoken to federal investigators and Austin police Chief Brian Manley, said of the bomber in a phone interview.
He added that the person responsible for the bombings had previously been "very sophisticated in going around surveillance cameras."
"They've got a couple of videos that could possibly be the person but they're not sure at this point," McCaul said.
Before it exploded, the package had been sent from Austin and was addressed to a home in Austin, Texas Attorney General Ken Paxton said.
In a statement, FedEx officials said the same person responsible for sending the package also shipped a second parcel that has been secured and turned over to law enforcement. A company spokeswoman refused to say if that second package might have been linked to the one reported at the distribution center near the airport.
The Schertz blast came less than two days after a bombing wounded two men Sunday night in a quiet Austin neighborhood about 3 miles (5 kilometers) from the FedEx store. It was triggered by a nearly invisible tripwire, suggesting a "higher level of sophistication" than agents saw in three package bombs previously left on doorsteps, according to Fred Milanowski, the agent in charge of the Houston division of the Bureau of Alcohol, Tobacco, Firearms and Explosives.
A criminologist at the University of Alabama said if a single perpetrator is behind the blasts, changing the means of delivery increases the bomber's chance of getting caught.
"I think it would suggest that the bomber is trying to stay unpredictable," Adam Lankford said. "But it also increases the likelihood that he would make a mistake."
Authorities have not identified the two men who were hurt Sunday, saying only that they are in their 20s and white. But William Grote told The Associated Press that his grandson was one of them and that he had what appeared to be nails embedded in his knees.
On the night of the fourth bombing, one of the victims was riding a bike in the street and the other was on a sidewalk when they hit the tripwire.
"It was so dark they couldn't tell, and they tripped," Grote said.
In Washington, President Donald Trump said the assailant behind the bombing is "very sick."
During an Oval Office meeting Tuesday with Saudi Arabia's Crown Prince Mohammed bin Salman, the president said, "This is obviously a very sick individual or individuals," and authorities are "working to get to the bottom of it."
Despite bombing tactics that have now shifted, investigators have repeated prior warnings about not touching unexpected packages and urged people to be wary of any stray object left in public. Austin police say they have now responded to more than 1,200 reports of suspicious packages in a little more than a week — without finding anything dangerous.
Officers originally pointed to possible hate crimes, but the victims have now been black, Hispanic and white and from different parts of the city.
"We are clearly dealing with what we believe to be a serial bomber," Manley says.
___
Associated Press writers Jim Vertuno in Austin and Matt Sedensky in New York contributed to this report.
Source: Associated Press