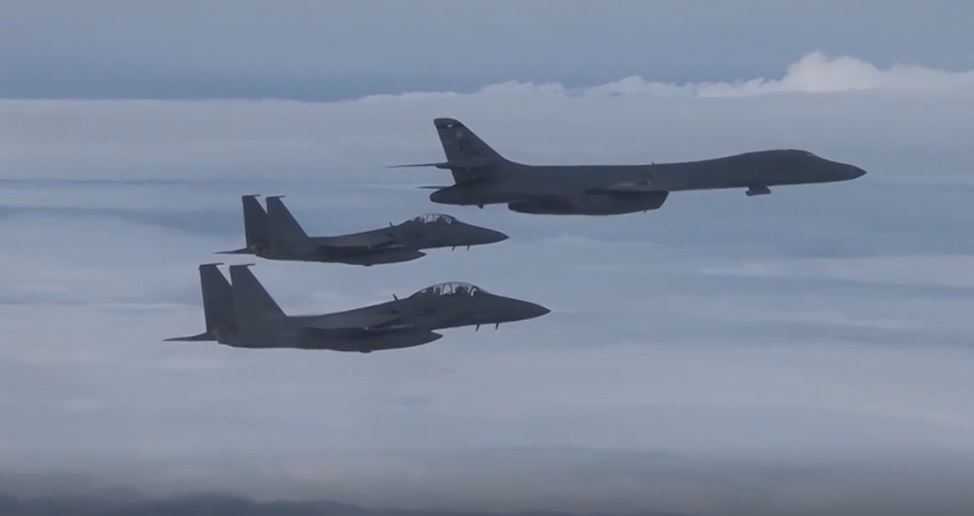 Two U.S. bombers flew to the Korean Peninsula to join fighter jets from South Korea and Japan for a practice bombing run as part of a training mission in response to North Korea's ballistic missile and nuclear programs, officials said Saturday.
U.S. military officials described the mission Friday as a defensive show of force and unity from the three allied nations and said it demonstrated "the ironclad U.S. commitment to our allies."
"North Korea's actions are a threat to our allies, partners and homeland," Gen. Terrence O' Shaughnessy, U.S. Pacific Air Forces commander, said in a statement from Pacific Air Forces. "Let me be clear: If called upon we are trained, equipped and ready to unleash the full lethal capability of our allied air forces."
Tensions with North Korea continue to mount, even as President Trump meets with foreign leaders at the G-20 summit in Hamburg, Germany.
The U.S. Air Force B-1B Lancer bombers from Andersen Air Force Base on the island of Guam conducted a 10-hour sequenced bilateral mission with South Korean and Japanese fighter jets, the statement said.
"U.S. bombers and Republic of Korea fighters are just two of many lethal military options at our disposal," said Lt. Gen. Thomas Bergeson, U.S. Forces Korea deputy commander. "This mission clearly demonstrates the U.S.-ROK alliance remains prepared to use the full range of capabilities to defend and to preserve the security of the Korean Peninsula and region."
When the B-1Bs reached the Korean Peninsula, they were joined by South Korean F-15 fighter jets and U.S. Air Force F-16 fighter jets. The B-1Bs practiced what officials called "attack capabilities" by releasing inert weapons at the Pilsung Range.
Click here to read more.
SOURCE: CBS News, The Associated Press